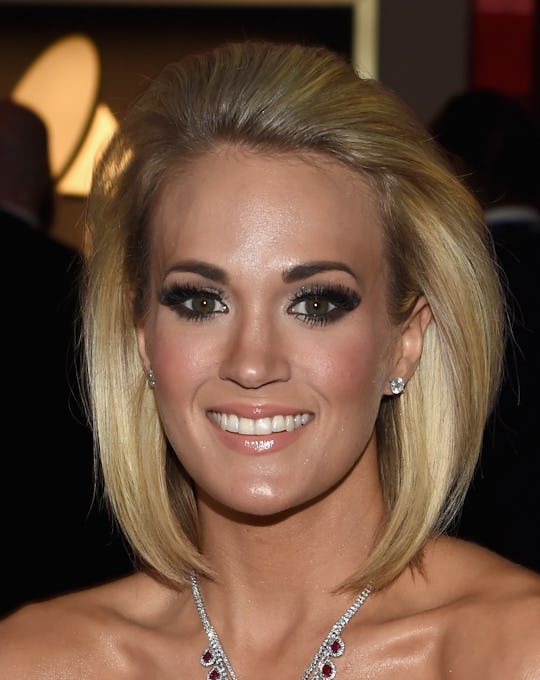 Larry Busacca/Getty
Carrie Underwood's 2016 Grammys Dress Proves She's One Hot Mama
Always a vision of beauty on the red carpet, Carrie Underwood's 2016 Grammys dress proved that the singer still has some serious style. Not that she ever lost it. Underwood, whose single "Little Toy Guns" earned her a Best Country Solo Performance nomination, has been a red carpet staple since she first appeared on the music scene in 2005. Although she's always been a vision of beauty, it's safe to say that Underwood's style has evolved from denim jeans and cowgirl boots to Dior gowns and hella-high heels. And her ensemble at the Grammys on Monday night proved just how far the American Idol alumna has come.
Underwood showed up the Grammy Awards donning a black gown with a tight fitting bodice and flowing skirt. But the little details were the best part of the gown. The slitted skirt wrapped at her hips, showing off Underwood's toned legs. She finished off the look with simple diamond studs and a drop necklace.
One could assume that Underwood's jaw-dropping dress is to make up for missing the award show in 2015 due to her pregnancy. In an interview with E!, Underwood said she was heartbroken to miss the show, but had to follow doctor's orders. "It's tempting, but I can't fly that far away this late in my pregnancy," she admitted. "I'll be in my pajamas watching it from the comfort of my couch." Of course Underwood's absence didn't go unnoticed, especially when she won Best Country Solo Performance for "Something In the Water." But something tells us the arrival of her son Isaiah a few weeks later made up for it.
Simple and sexy, Underwood won the red carpet with her gown. But will she win the Grammy? We'll have to wait and see.