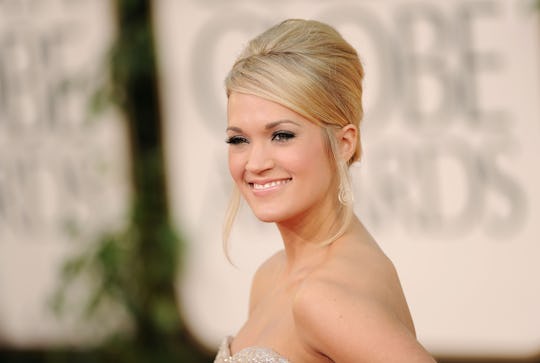 Jason Merritt/Getty Images Entertainment/Getty Images
Some Think Carrie's Dress Looks Like A Cupcake
OK, so last year might've ended on a low note, but 2017 has proved — by leaps and bounds — that people are back and ready to laugh. Walking the 2017 Golden Globes red carpet in a fabulous pink dress with ruffles along the neckline, it was country mega star Carrie Underwood who got everyone feeling good ahead of the film and TV awards show. Carrie Underwood's Golden Globes dress jokes highlighted not only that 2017 is a much better year, but that Twitter, in light of all that's going on in the world, has yet to lose its touch.
From the minute she locked eyes on the cameras, Twitter was evenly split on which direction the jokes inspired by Underwood's dress would go. Did she look more like a cupcake? A cake topper? A flower crown? A vagina? Deli meat? The jokes were endless (and honestly, after the year we've all surprisingly managed to come out of, we deserve a good, harmless laugh). No matter the jokes, Underwood looked absolutely stunning and incredibly comfortable walking the red carpet. She mentioned, in her interview with Ryan Seacrest, that she chose the dress the morning of the Globes because she felt incredibly comfortable and "girly" when she tried it on.
But in was the full neckline of ruffles on the gown made by Iris Serban that really got Twitter talking. Here are just a few of the, honestly, many reactions Golden Globe viewers had. I'm not sure if we should thank Underwood, or Twitter, or both, but I'm just going to sit here and bask in all my gratefulness. These jokes are rich, my friends:
The Cake Camp
Frosting FTW!
Are We... Watching A Dress Give Birth RN?
Those Labia Jokes
Going HAM For Her Look
Such Flower Crown Inspo!
To Be Fair, No One F*cks With Miss Piggy
Maybe She Was Inspired By The Derby?
Could It Be?
The jokes, obviously done in jest, were some of Twitter's best of the red carpet. Even after the award show came and went (with plenty more opportunities to rib on winners, presenters, and reactions in the crowd), Underwood's half-cupcake, half-cake, half-labia, half-deli meat dress was the Talk of the night when it came to red carpet fodder; capital T intended. If Fallon can deliver half as much humor, I'll count the show a success — and that's saying a lot, considering I miss Tina and Amy something fierce.