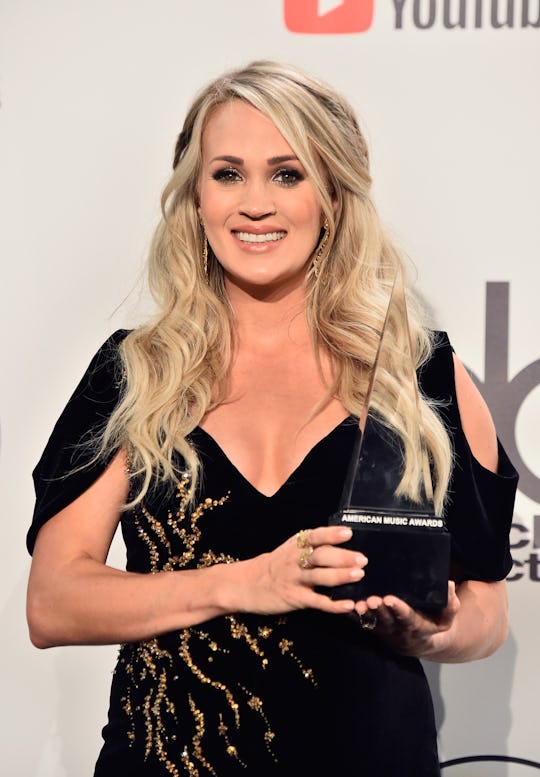 Frazer Harrison/Getty Images Entertainment/Getty Images
Carrie Underwood Reveals Her Pregnancy With Baby No. 2 Is "Harder" Than Her First
In case you missed the happy news, Carrie Underwood is pregnant with her first child. Exciting right? And while the occasion is undoubtedly a happy one for the country singer, Carrie Underwood's latest pregnancy update isn't that positive. As it turns out, Underwood's second pregnancy has been more difficult than her first.
Prior to announcing her pregnancy in July, Underwood was all about keeping the news under wraps due to her past miscarriages. "You kind of want to reach a point in your pregnancy where you're sure everything is going well before you let other people in on it," Underwood told PopCulture. "Stuff like that was important. You just don't want to jump the gun and then have to take it back."
But now that Underwood is happily in the clear, she's dishing about her pregnancy left and right. Case in point: At the 2018 CMT Artists of The Year event in Nashville, Tennessee on Wednesday night, Underwood admitted that this pregnancy has been "hard" on her body.
"It's definitely different than the first time," Underwood revealed, according to Us Weekly. "When they say every pregnancy is different, it really is. I feel like this one is just a little harder on my body for some reason."
If you're a mom of two or more, you probably can relate to Underwood's plight. This phenomenon is very common, after all, and there's a lot of science out there to explain why parents struggle with their second pregnancies.
Not only is pregnancy more difficult when you have a kid to take care of, but some parents might experience increased pelvic discomfort due to "additional pressure" on their "bladder and pelvic area," according to Parents. Why? Pregnancy can weaken your abdominal muscles, which means people tend to carry lower the second time around. The lower the fetus, the more pressure there is on your pelvis. How fun.
Additionally, there are typically more aches and pains with second pregnancies because "the body very quickly begins to relax its joints, leading to more body aches," according to Today's Parent.
Of course, Underwood's frustrating symptoms sometimes affects her ability to perform. She explained, according to Extra TV:
It's different. It's just your... you forget, your brain, 'cause I feel like it happened so fast — it really does — and your brain still thinks you have your old body, and then it's been invaded, taken over, and it's just different. It's different singing. It's different walking around.
Despite Underwood's struggles, she's absolutely thrilled to welcome baby number two. She shared in her initial announcement, according to People:
This has just been a dream come true with album and with baby news and all that stuff. We're just so excited and just so glad you guys can share in this with us and be a part of this with us. Love you guys! We will see you on the road in 2019.
Underwood's great support system — her husband, Mike Fischer, and her 3-year-old son, Isaiah — also contribute to her happiness. She wrote on Instagram in September: "My life wouldn't be what it is without my boys, my family and my friends!" Aww.
Hopefully, the rest of Underwood's pregnancy will go as smoothly as possible. Aches and pains are never fun, but they're especially tedious when you're pregnant and the mother of a toddler.