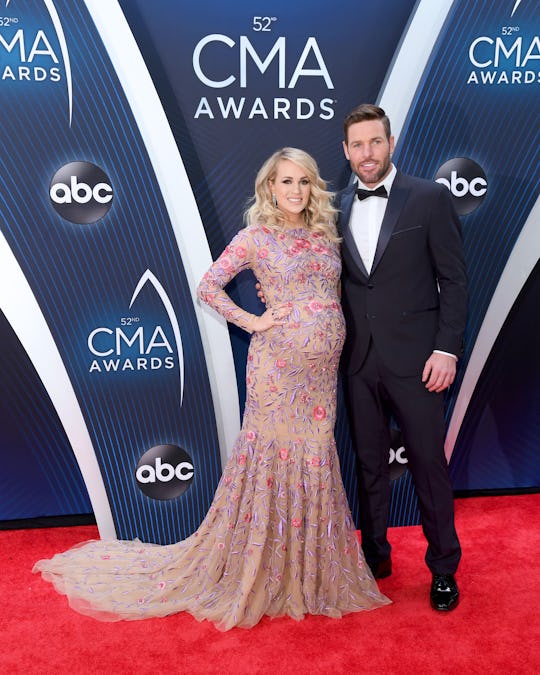 Jason Kempin/Getty Images Entertainment/Getty Images
Carrie Underwood's Maternity Look For The 2018 CMAs Was, Of Course, Stunning
Awards season is everyone's favorite time of the year, not just to see who ends up winning in each category, but also because of all the elaborate outfits. No matter what, you can count on celebrities to pop up on the red carpet look extra fashionable during award shows. Carrie Underwood's maternity look for the 2018 CMAs didn't disappoint and fans are loving her adorable bump.
On Nov. 14, the Country Music Awards returned for the 52nd time, live from Nashville's Bridgestone Arena. It's a big year for the CMAs, featuring performances such as a collaboration between Chris Stapleton, Maren Morris, and Mavis Staples, as reported by Rolling Stone. In addition, country fans all looked forward to the return of Pistol Annies.
This year, Brad Paisley and Carrie Underwood returned for the 11th straight year as co-hosts, as reported by Entertainment Weekly. This puts the duo only one year behind the all-time leader Vince Gill, according to Rolling Stone, who led the CMAs for 12 consecutive years between 1992 and 2003.
Let's be real: Carrie Underwood hasn't disappointed in the outfit category before. What had fans extra excited about her appearance this year, though, is the fact that Underwood is heavily pregnant with her second child.
Fans were especially looking forward to seeing an expectant mother dominating as host and Underwood did not let them down. Even if you aren't a big country fan, you'll likely still love Underwood's red carpet look for the big night. She (of course) stunned in a long-sleeved pastel embroidered gown, loose curls, and glitzy earrings.
It's not often that expectant moms walk the red carpet, let alone take to the stage as award show hosts. When they do, though, they always look beautiful, and that was proven even further tonight. There were some doubts before the show about whether or not Underwood would make it through the CMA awards.
At a press conference to kick off the annual CMA Radio Row Remotes, Taste of Country reported that there were questions about a backup plan in case she went into labor.
"We should be okay," Underwood said, according to Taste of Country, "I got a little ways to go."
Underwood has hosted the CMAs while pregnant before. Fans might remember that in 2014, while pregnant with her son, Isaiah, co-host Brad Paisley revealed the sex of Underwood's baby. Considering that, there should've been no doubt about her ability to both host and stunt on the red carpet.
Carrie Underwood is well known for changing outfits multiple times throughout the course of a show. At one point, Underwood changed outfits nearly 10 times during the course of the CMAs.
Fans were wondering if Underwood would pull out multiple outfits tonight. And they didn't have to wait long to find out that, yes, Underwood had not just one stellar look planned, but a few.
There's a reason Carrie Underwood has been invited to co-host the Country Music Awards for 11 years straight. She is undoubtedly a powerhouse, as a singer, a host, and a mother.
Chances are high that Underwood will be back to host alongside Brad Paisley next year. Fans are already excited to see what outfits she'll pull out next.