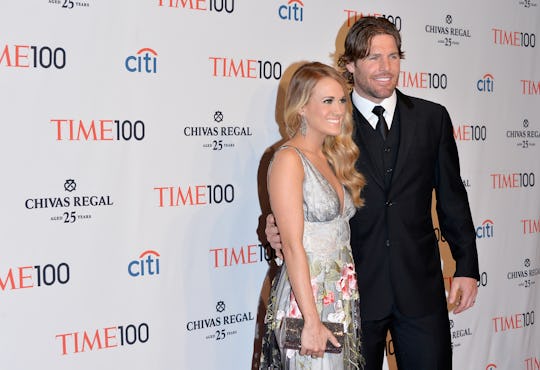 Ben Gabbe/Getty Images Entertainment/Getty Images
Carrie Underwood Knows About Balancing Work & Motherhood
Carrie Underwood knows a thing or two about hard work. Coming from humble beginnings, the American Idol winner has worked incredibly hard to become one of the most famous women in country music today. But with the addition of a baby comes the challenge of balancing both work and the important job of being a mom. It's not an easy balance to master, which is why Carrie Underwood's quotes about balancing work and motherhood are honestly refreshing — coming from a woman who knows all about working hard.
Underwood is a mother to toddler Isaiah Michael, who turned two this past February. But in the past two years, she has learned a thing or two about being a mother, especially when it comes to balancing a busy work life and a busy life at home. In 2016, according to Today, Underwood played 92 shows on her tour and this past January released her 25th single — yeah, she works hard. But when Isaiah was born, Underwood and husband Mike Fisher's whole lives were changed, she told People, and a balance had to be made. Underwood said:
But you just have to make room and you learn how important family time is, and to be able to spend time and carve out some of that and maybe get to go on vacation and maybe get to go on a cruise — that stuff is so important to, like I said, make time for family. That's what it's all about.
Underwood is right, making time for family is so important — which could be why, in February, Underwood told People that she was going to be "taking a little break" from music to focus on her family. "I'm nervous because I want whatever I do to be amazing so I'm kind of taking a little break right now and being a mom and being a wife and going to see some hockey games to see my husband play." After all of her continuing success and hard work, Underwood deserves that break.
But that break might not last that long. According to People, Underwood said that she is "gearing up" to write more music and figure out what music she wants to make next — and because of this, according to Underwood, "family time becomes more and more important all the time."
This is not the first time Underwood has spoken about balancing work and motherhood. Last fall, while on tour, Underwood told Today that she brings her son with her on the road, doing parenting a little unconventionally. But just because she might live a seemingly glamorous life as an award winning musician doesn't mean she doesn't experience the same struggles as most parents. "It's the same for me as it is for any other family, where you're just trying to work and figure out how to balance everything and be a good parent," Underwood said.
Underwood's comments speak truth to all moms who have ever had to balance work and parenting.