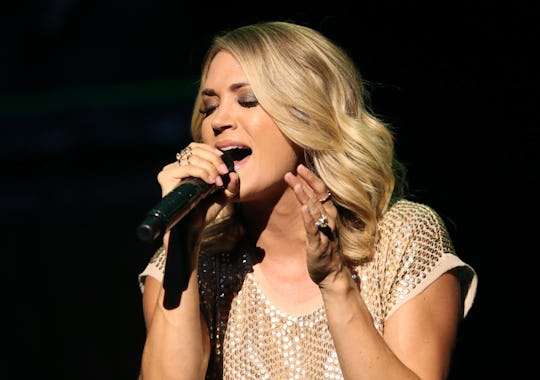 Christopher Polk/Getty Images Entertainment/Getty Images
Carrie Underwood's Son's Bedtime Routine Is Goals
Every parent (or babysitter) knows that more often than not, bedtime can be super unsuccessful. Putting kids down can a struggle, especially when they want "just one more" book read to them and claim to be thirsty (when they really just don't want to sleep). But it seems like singer Carrie Underwood, however, has bedtime under control. Judging by her latest Instagram post, Carrie Underwood's son's bedtime routine is the most fun part about the day. Seriously.
While some bedtime routines include singing or storytelling, the same is not to be said for Underwood's 2-year-old son, Isaiah Michael. From her Instagram post, it seems that Underwood and husband, hockey player Mike Fisher, switch things up a bit before bedtime — donning super hero masks and capes on top of their pajamas before hitting the hay. Because nothing gets a kid tired more than having a little fun.
In the photo collection, Underwood, Fisher, and Isaiah stand in their kitchen, wearing their capes and masks, looking ready to save the world, just in time for bed. "Just a typical Thursday night at the Fisher house...featuring Catboy, Gekko, and Owlette! It's time to be a hero!," Underwood captioned the post. With Underwood and Fisher partaking in on the fun with their son, the photo collection gives a new meaning to parenting goals.
But these costumes and characters are not from Underwood and Fisher's imagination, they're from the Disney Junior show PJ Masks. If you're not familiar with PJ Masks, its a show about three six year olds, who live normal lives by day but fight crime together at night. So this means Underwood, Fisher, and Isaiah must have gone out and fought off some bad guys right before heading to bed. If you're jealous of Underwood's nighttime get up, you don't have to be — you can buy similar PJ Masks costumes on Etsy.
Not only does Isaiah fight crime with his mom, he has other impressive activities that he partakes in at his young age. In February, Underwood shared a video of Isaiah singing "Jesus Loves Me" with her from his carseat (someone get this kid on the American Idol reboot, stat). And inn March, Underwood shared another video of Isaiah, this time doing post-workout stretches. But whether he chooses to be a real life superhero or a singer, Underwood has said that she will support her son, no matter what path he decides to take. Underwood told People in March:
We're ready to support him in whatever it is that he wants to do and be whoever he wants to become, but I just want him to be happy. I want him to say 'I had good parents, I had a good childhood.' And I just want him to do good things in the world.
It's safe to say that Isaiah is happy. Who wouldn't be with that kind of night time routine?