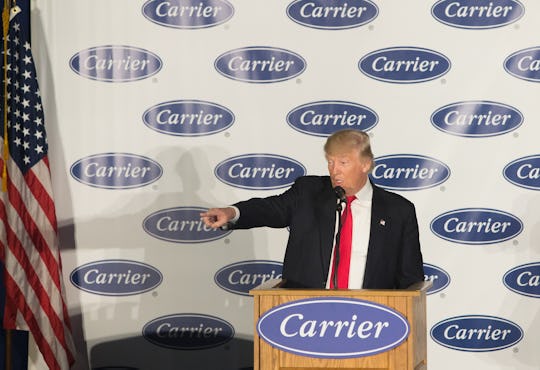 Tasos Katopodis/Getty Images News/Getty Images
Carrier's $7 Million Tax Break Deal: What Everyone Needs To Know
Donald Trump thinks it's "great," and his transition team is touting it as evidence that he can deliver on campaign promises to keep companies from relocating American manufacturing jobs to other countries. On Thursday, the president-elect visited the Indiana plant of a heating and air conditioning company that agreed this week not to move about 1,000 jobs from the state down to Mexico, reportedly as a result of negotiations with Trump and Mike Pence, who's the state's sitting governor as well as the vice president-elect. United Technology's Carrier unit harnessed a $7 million tax break over the next 10 years as a result of the deal, The Wall Street Journal reported. But many Carrier positions are still moving to Mexico, and critics point out that Trump's intervention amounts to another subsidy for big business.
Trump is tying his celebratory tour of the Indianapolis Carrier plant in with the launching of his "thank you tour," during which he'll host campaign-style rallies in primarily midwestern states that were instrumental in electing him. There's no doubt that the news of the Carrier agreement will invigorate what amounts to a victory lap among blue collar workers whose jobs and livelihoods Trump has pledged to protect. The compromise can come off as merely symbolic, though, when a closer inspection reveals that about 300 of the jobs Trump "saved" weren't actually slated to go to Mexico, according to the Journal, and that Carrier still plans to ship about 1,300 jobs to our southern neighbor anyway — closing an entire second Indiana plant in the process. (And, as NPR reported, 1,000 jobs represents less than 0.01 percent of the country's manufacturing jobs.)
By threatening to move some of its operations to Mexico, where labor is much cheaper than it is in the United States, Carrier effectively "took Trump hostage and won," former Democratic presidential candidate and Vermont Sen. Bernie Sanders wrote in a Washington Post op-ed. In the senator's view, Trump's willingness to bow to a corporation's interests signals to others that they, too, can squeeze funds and breaks from the government with the suggestion that they'll move their jobs elsewhere — a prospect, Sanders wrote, that should terrify working people across the nation:
Even corporations that weren't thinking of offshoring jobs will most probably be reevaluating their stance this morning. And who would pay for the high cost for tax cuts that go to the richest businessmen in America? The working class of America.
In return for the incentive package that's keeping it partly in this country — the Indianapolis Business Journal reported that it was also concerned about losing lucrative federal contracts if it left completely — Carrier will invest about $16 million to stay. It would have saved about $65 million per year if it had shuttered the Indianapolis plant entirely, as originally planned.
The move is eliciting praise from both inside and outside of Trump's team. Jason Miller, communication director for the transition, called the deal a "big win for the incoming administration but an even bigger win for the people of Indiana." Republican House Speaker Paul Ryan backed it too, even before many of the details of the arrangement were known: "I'm pretty happy that we're keeping jobs in America, aren't you?" he said, according to USA Today.
At the Carrier plant on Thursday, Trump told the crowd that, in the future, he would make leaving the country "very, very difficult" for companies seeking to do so. "We're gonna have a lot of phone calls made to companies when they say they're thinking about leaving this country because they're not leaving this country," he said, according to Politico.
If the Carrier situation is any indication, the companies (and the jobs) will stay not because of the threat of penalties or other negative outcomes if they leave, but because Donald Trump will make them an offer they can't refuse.