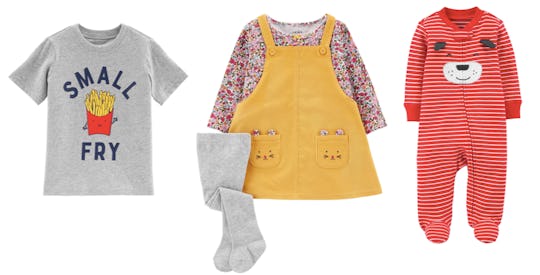 Carter's
UM WOW, Everything At Carter's Is 50% Off This Weekend, Plus 25% Off If You Spend $40
Get excited mamas, because the Labor Day sales are officially here and everyone's favorite, Carter's, is currently having a massive one. I seriously hate to say this phrase, but it's true — you don't want to miss it. Everything in stores and on the site is 50 percent off, and you get an additional 25 percent off if you spend more than $40. Are you kidding me? Don't pay full price for things your child is going to outgrow in a month. Take advantage of Carter's Labor Day 2018 sale, and go on a shopping spree that won't break the bank.
Onesies, pajamas, shoes, t-shirts, swimwear, dresses, shorts, accessories.... when I say everything is on major sale, I mean everything. This sale runs through Sept. 5, but I won't be surprised if a lot of things sell out before then. All of the new prices are marked (calculated from the MSRP), and certain items are marked down even lower than 50 percent. Got an infant? Sales like these are great chances to start stocking up for toddlerhood and childhood. Seriously, unless you find a piece of children's clothing that is absolutely amazing, don't pay full price. These blowout sales are where it's at.
Because I spend more time than I'd like to admit fawning over baby clothes, these are some of my favorite items from this sale.