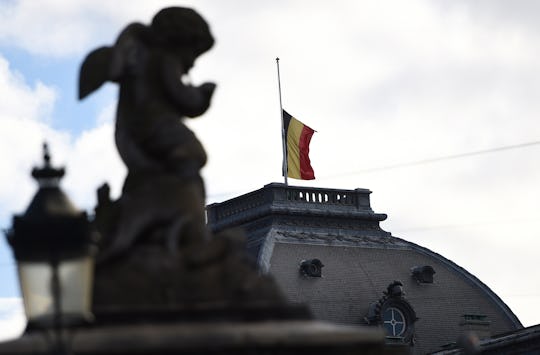 EMMANUEL DUNAND/AFP/Getty Images
Cartoon Tributes After Brussels Terror Attacks Show "Je Suis Bruxelles" Is A Unified Cry
In January 2015, tributes claiming "Je Suis Charlie" (translation: "I Am Charlie") rung out across France following the attack on the satire publication Charlie Hebdo offices that killed 12. Now, a little over one year later, cartoonists paying tribute to the Brussels attacks in the Brussels airport and Maelbeek metro station are crying a different, inspired message: "Je Suis Bruxelles." (Translation: "I Am Brussels.")
At 8 a.m. Brussels time, three explosions rocked two locations in Brussels, just three months after 130 were killed in the Paris terror attacks, and four days after Paris suspect Salah Abdeslam was apprehended in Brussels (and, following his arrest, told authorities about plans for other attacks). But as fears rage on about the possibility for more terror attacks throughout Europe, people are starting to pay tribute to those who were lost in Tuesday's Belgium terror attacks. (So far, the death toll in Brussels, which will surely be updated as the day progresses, sits at at least 26 dead, with 130 injured.)
(Update: ISIS has claimed responsibility for the terror attacks in Brussels Tuesday.)
And that exact type of response is important. Following previous terror attacks at Charlie Hebdo and in the Paris Bataclan (one of the locations of the terror attacks in November), citizens across the world showed solidarity with the nation through their art, which proclaimed "Je Suis Charlie" and showcased the country's strength through tragedy. And cartoonists in France are returning the favor of support shown to them through their own art following the tragedy in Brussels.
There are the tributes that favor a sense of humor, much like Charlie Hebdo did during the Paris attacks:
Some are also sharing photos of Tintin, the popular character from Belgium artist Georges Remi, crying following the attacks:
There are those who are asking for thoughts for Brussels:
While some of the art is more somber in nature:
And, perhaps most touching, French newspaper Le Monde's cartoon, which provides Brussels survivors a shoulder to cry on:
Proof that no one, and no amount of terror, can stifle creativity.