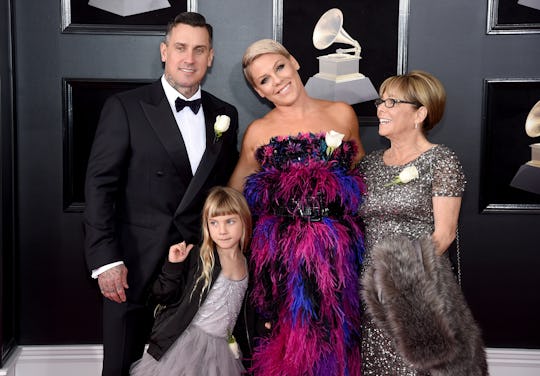 Jamie McCarthy/Getty Images Entertainment/Getty Images
Fans Are Seriously *Swooning* Over Cary Hart's Message To Pink After Her Super Bowl Performance
On Sunday night, Pink delivered a fabulous rendition of the national anthem at the Super Bowl LII while battling the flu. Pink's impressive ability to power through her illness for the sake of the show didn't go unnoticed by her fans, and of course, her loving husband, Carey Hart. Following the anthem, Hart took to Instagram to pen Pink a sweet and supportive note recognizing her accomplishment. And if you're a big fan of the couple, you'll likely *love* Carey Hart's Super Bowl message to Pink.
Just days before Pink was set to deliver the anthem to a stadium of people in Minneapolis, Minnesota, she took to Instagram to share an upsetting update about her health. Apparently, Pink's two little ones, 6-year-old Willow and 1-year-old Jameson, infected her with some nasty germs (because kids) and she ended up developing a bad case of the flu.
Pink wrote, according to Instagram:
Trying to practice the flu away. I've been waiting to sing this song since 1991 when I saw my idol, Whitney Houston, own this song. And now, my chance has finally come. And it just so happens that this chance comes when I have two small Petri dish kids who literally cough INTO MY MOUTH and rub their snot on my cheek. You can't write this stuff I swear! And here we are. I've arrived at another one of my dreams which is slowly becoming a sort of nightmare. I will tell you, this is one of the biggest honors of my life, singing this song in front of my family, my military family, my dad and brother and step mama and family and the world. And the EAGLES!?!?!
Despite Pink's less than ideal predicament, however, she managed to belt out the lyrics to the anthem like a total champ, and many people took to Twitter to praise her performance.
But there were also some naysayers (aren't there always?) who slammed Pink for supposedly spitting out a wad of gum onto the field moments before she started singing. The "gum," however, was actually a throat lozenge (she was sick, remember?), a fact which Pink herself confirmed later that evening.
To make matters even more difficult for Pink, she was forced to confront haters throughout the night who complained about her "sucky" singing.
While I can't imagine how frustrating it must have been for Pink to deal with all of the backlash after she overcame a major obstacle, I'm just glad she had Hart waiting in the wings to give her the props she deserved.
And boy, did Hart deliver. Cart captioned a photo of Pink posing with Willow on the football field, according to ET Online:
I am beyond proud of this woman. The roller coaster that she went through this last week with getting sick and losing her voice would have broke any ordinary person. She laced up her boots, got through a 90 minute set Friday night, and fucking killed the super bowl today. Oh and sang live by the way. She is the hardest working in show business and i couldn't be more proud of her. You fucking rule, baby @pink.
Sweet, right? It's clear Pink has a really supportive partner in Hart. For starters, it's awesome that Hart recognized Pink's incredible work ethic, which is something women don't always get praised for. Too often women (especially female celebrities) receive accolades for their looks as opposed to their hustle. Pink, a multiple Grammy winner and tireless performer, is definitely no stranger to hard work, so it's great to see Hart paying homage to that instead of simply stating that she did well or looked amazing.
Not to mention, Hart shared this message post gum-gate. Hart probably felt compelled to defend Pink amid the criticism (not that she needs defending, of course) and he likely wanted to reiterate the circumstances surrounding her performance because the bulk of backlash she suffered wasn't fair given her sickness. Hart defended Pink in a totally polite way, too. What a class act.
And lastly, you got to give Hart credit for sharing this message with his 725,000 followers. Clearly, Hart is not afraid to be open with his love and admiration for Pink, which is really sweet. Unlike some men who might find a powerful woman intimidating, Hart is proud to have a strong woman like Pink by his side.
So, here's to Hart building up Pink when she needs it the most. Well done.
Check out Romper's new video series, Bearing The Motherload, where disagreeing parents from different sides of an issue sit down with a mediator and talk about how to support (and not judge) each other's parenting perspectives. New episodes air Mondays on Facebook.