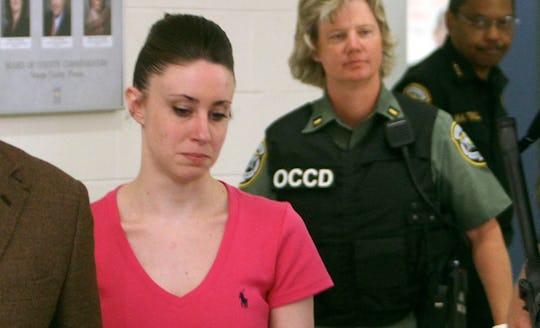 Pool/Getty Images News/Getty Images
Judge On Casey Anthony's Murder Trial Has A Theory
The Casey Anthony saga captivated the nation from the time her 2-year-old daughter went missing to the summer day in 2011 when a jury acquitted her of her child's tragic murder. The case dominated news cycles; The trial was even televised as though it were a soap opera or reality TV show. The notoriety was so complete that it's still making headlines nearly six years after the fact, as the man who presided over the case breaks the silence and weighs in. In an interview with The Orlando Sentinel published Thursday, Belvin Perry Jr., who was the judge in the Casey Anthony case, shared his theory about how he believed Caylee Anthony may have actually died.
In disclosing his opinion to the newspaper, Perry, who is now retired as a circuit judge and works in a private practice, stressed that he believes "the only person that really knows what happened was Casey." But he also believes that if the jurors on the case had reached the same alleged conclusion he did — that Anthony may have allegedly accidentally killed her daughter by suffocating her with chloroform — she may have been convicted of second-degree manslaughter. (To reiterate, Anthony was acquitted and never charged with a crime, so as it stands, all of Perry's theorizing is just that — a theory.)
"There was a possibility that she may have utilized that to keep the baby quiet ... and just used too much of it, and the baby died," Perry claimed in an interview with the Sentinel's Rene Stutzman. "That's just one of the many theories as to how this beautiful young lady [Caylee] tragically met her death."
Anthony's attorney, Jose Baez, has not yet responded to Romper's request for comment about the former judge's theory. The legal team for Anthony, who is now 30, has always maintained that that she did not murder her daughter, who was missing for five months in 2008 before her skeletal remains were discovered about a half-mile from her grandparents' home in Orlando. Instead, they argued that Caylee had accidentally drowned in Anthony's parents' home pool and that, panicked, Anthony and her father had tried to cover up the death.
Prosecutors' reasoning was much more aligned with Perry's. They tried to convince the jury that she had allegedly duct taped Caylee's mouth and nose to suffocate her after allegedly employing the chloroform to make her lose consciousness, according to CNN. Clearly, Perry examined the evidence to draw his conclusion: The Sentinel reported that Anthony had researched how to use chloroform as a sedative online (searches her mother later claimed to have made) and that investigators had found chloroform in the trunk of Anthony's car.
For her part, Anthony has maintained her innocence, even though her daughter's disappearance was not reported until a month after she was last seen and that she was ultimately convicted of four counts of lying to authorities over the course of the investigation. "Obviously I didn't kill my daughter," she said in a rare post-acquittal interview with CNN's Piers Morgan in 2012. "If anything, there's nothing in this world I've ever been more proud of, and there's no one I loved more than my daughter. She's my greatest accomplishment."
These days, Anthony keeps a low profile. She reportedly works as a photographer in West Palm Beach, Florida, where she started her own company at the beginning of 2016, according to Inside Edition. In July, TMZ obtained a photo of her picking up her Yorkshire terrier from a groomer near her home.
Perry's theory may certainly pique a morbid interest in those who were dedicated to following the case, but in the end, they do nothing to bring an innocent child back to those who loved her most.