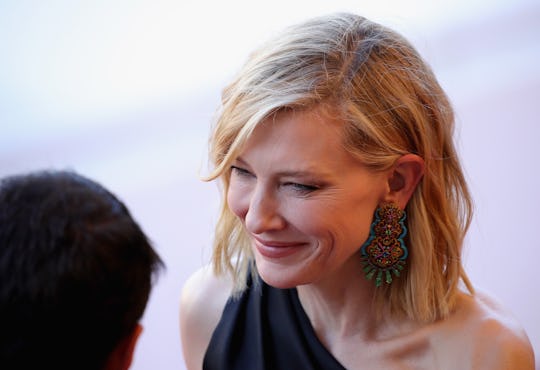 Andreas Rentz/Getty Images Entertainment/Getty Images
Cate Blanchett & 81 Women Linked Arms At Cannes For A Powerful Reason
In case you were unaware — or merely too distracted by the upcoming royal wedding next Sunday, in which case I totally don't blame you — the most prestigious film festival in the world is happening right now. I'm talking about the Cannes Film Festival, which began on May 8 and runs through May 19 in Cannes, France. During this star-studded event, screenings of 20 films in competition for the Palme d'Or (the "golden palm") are shown, along with other films. And of course, there's a red carpet. Because what's a fancy party without a red carpet? On Saturday, Cate Blanchet linked arms with 81 women on the Cannes Film Festival red carpet to promote gender equality.
E! Online reported that Cate Blanchet — who was this year's Cannes Film Festival Jury head — led a women's march of sorts at the Cannes Film Festival. Ava DuVernay, Kristen Stewart, Salma Hayek, Patty Jenkins, and dozens of other women (adding up to 82 in total) participated in the protest on the stairs of the Palais des Festivals. Their goal? To protest gender inequity at the festival itself, as well as to promote gender quality in the film industry as a whole. Basically, what went down today was organized by 5050x2020, which is the French equivalent of the #MeToo Movement. Pretty bad*ss, right?
As the Daily Mail reported, each woman represented each of the 82 woman-directed films that has been a part of the competition portion of the Cannes Film Festival — during its entire 71-year history. By contrast, a whopping 1,645 films directed by men have been a part of the official selection. Yeah. I'll just let that sink in for a moment.
Leading up to the screening of Eva Husson's Girls Of The Sun, Blanchet walked the red carpet with 81 other prominent women in the film industry. And honestly, their message was powerful AF. "On these steps today stand 82 women representing the number of female directors who have climbed these stairs since the first edition of the Cannes Film Festival in 1946," Blanchet said in her statement — which was also ready by Agnès Varda — Saturday on the red carpet, according to The Hollywood Reporter. "In the same period 1,688 male directors have climbed these very same stairs. In the 71 years of this world-renowned festival there have been 12 female heads of its juries. The prestigious Palme d'Or has been bestowed upon 71 male directors — too numerous to mention by name — but only two women — Jane Campion. who is with us in spirit, and Agnès Varda who stands with us today." Blanchett and Varda continued:
We will expect our institutions to actively provide parity and transparency in their executive bodies and safe environments in which to work. We will expect our governments to make sure that the laws of equal pay for equal work are upheld. We will demand that our workplaces are diverse and equitable so that they can best reflect the world in which we actually live. A world that allows all of us behind and in front of the camera to thrive shoulder to shoulder with our male colleagues. We acknowledge all of the women and men who are standing for change. The stairs of our industry must be accessible to all. Let's climb.
Let's just say Twitter is loving it.
From the looks of it, the 5050x2020 campaign seems to echo the sentiments made by the Time's Up and #MeToo movements, according to the organization's website. "While French cinema wasn't shaken by the Weinstein shock wave, it is essential that we move to take concrete action reaching beyond the issue of sexual abuse alone," the site's homepage reads. "We believe that the distribution of power needs to be questioned. We believe that equality restores the balance of power. We believe that diversity deeply changes representations. We believe that the opportunity to work in an egalitarian and inclusive environment must be seized because we are certain that the equal sharing of power will promote profound creative renewal."
I still can't quite wrap my mind around that figure: Eighty-two female-directed films versus 1,645 male-directed films. That's insane. What's even more insane, though is that this has been allowed to continue unchecked for so long. I'm proud AF of these strong women for raising awareness for this blatant inequality in the film industry. And I have a feeling by 2020, we'll be significantly closer to that 50/50 goal because of them.