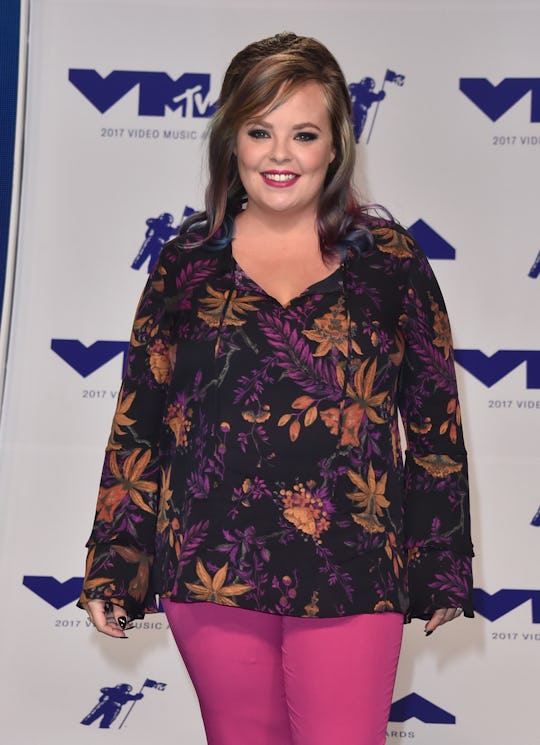 Alberto E. Rodriguez/Getty Images Entertainment/Getty Images
Catelynn Lowell Opens Up About Her Miscarriage & Wanting More Kids With Tyler
It definitely hasn't been an easy year for Teen Mom OG star Catelynn Lowell. Though Lowell surprised her husband, Tyler Baltierra, with the news that they were expecting another child together during a January episode of the MTV reality show, their excitement was short-lived: Lowell suffered a miscarriage, and soon after entered a treatment facility to get help with depression and suicidal thoughts. She returned home to Michigan in February, and in an interview with Teen Mom 2's Kailyn Lowry for her podcast, Coffee Convos, Thursday, Catelynn Lowell opened up about her miscarriage, according to People. The good news? Despite the devastating loss and the mental health challenges she's faced, it sounds like she and Baltierra are in a really good place, and are feeling optimistic about the future.
Lowell and Baltierra joined Lowry for the podcast interview together, and in it, they spoke a bit about their rollercoaster year. Though her time in treatment was difficult for both of them, Lowell said that she's now doing much better, and that, in addition to learning that she'd been suffering from Post-Traumatic Stress Disorder related to her childhood, she was also finally able to find a medication regimen that works much better. She explained,
I did genetic testing and found out that the medication I was on for five years doesn't even work for me. So, they put me on different medications and they seem to be working really well. It all stems from the trauma in my past, so I'm going to have to keep digging deep into that.
Given that Lowell had already had a lot to deal with regarding her ongoing mental health issues, it's not exactly surprising that experiencing a miscarriage on top of that could have triggered her enough to need some more intensive support. During the Feb. 26 episode, Baltierra revealed Lowell's miscarriage to one of the Teen Mom OG producers, according to Us Weekly, and said,
It was very traumatic. [I saw] her shaking, and she's got blood everywhere. She kinda like cleaned herself up and we figured what was going on. Spotting's normal but clotting … all the clots are not. We just sat on the bed and cried. We just held another. There's nothing you can really do.
What made the situation even more difficult though, according to Baltierra, is that it also brought back the pain the felt after giving their first daughter, Carly, up for adoption when the couple were teenagers. He said, "Carly's a little different because we get to see her every year, but it's a loss. I feel like you process it as a loss."
If there's one thing though that seems pretty clear about Lowell and Baltierra, it's that they have already proven that, together, they're able to handle pretty much anything. Though they're only in the their mid-twenties, the two will celebrate 13 years together as a couple in July, according to E! News, and in August, they'll have been married for three of them. And though their miscarriage was certainly heartbreaking, it sounds like it hasn't kept them from continuing to dream about expanding their family: Baltierra told Lowry Thursday that he "definitely" wants to have more kids, according to People, and that the miscarriage only made that more clear.
Lowell agreed, though she emphasized that they weren't feeling any pressure to get pregnant again right away. She said,
We're kind of not rushing into things right now, because we were there, and then I had the miscarriage. Then I just went downhill, I want to make sure that I'm healthy and happy.
It's a pretty big understatement to say that grappling with both mental illness and a miscarriage at the same time is a huge challenge, and when you also have a 3-year-old at home to take care of, it has to be beyond overwhelming. As usual though, Lowell and Baltierra seem to have figured out a way to handle the situation as best they can, and with the same patience, understanding, and compassion for one another that they always seem to be able to find. And that's incredibly admirable.
Given the struggles they've faced recently, of course, it makes total sense that they're taking it slow, even if their pregnancy loss did prove to them that they really do want to have more children together. But whatever happens when they do eventually decide to try again, it seems safe to assume that they'll handle it together, just like they always have.