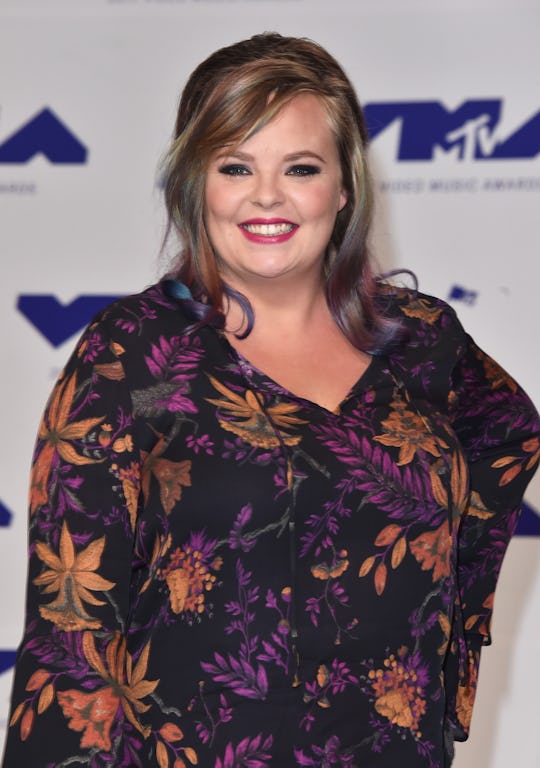 Alberto E. Rodriguez/Getty Images Entertainment/Getty Images
Catelynn Lowell Returns Home After Entering Rehab For Suicidal Thoughts
Through her years on 16 & Pregnant and Teen Mom OG, Catelynn Lowell has remained refreshingly open about her mental health struggles. From postpartum depression to ongoing anxiety and depression, the reality star's transparency about her issues has undoubtedly helped others who may be facing similar challenges. Most recently, Lowell had entered a rehab facility in November after having suicidal thoughts. And now? It looks like the mom to 2-year-old Novalee will be home with her family to ring in the new year. That's because Catelynn Lowell is returning home after entering rehab, and Twitter is there to lift her up.
On Nov. 17, Us Weekly reported that Lowell had make the decision to enter a rehab facility. Lowell announced plans to take control of her mental health via Twitter. "Well today I thought of every way to kill myself.. so I'm going to treatment," the 25-year-old mama tweeted. Her husband, Tyler Baltierra, also took to Twitter to share his support for his wife's bravery. "Incredibly proud of my wife...when she thought she had no choices left, she reached out & decided to LIVE today!" he wrote. "My life would be desolate without her in it. You are beautiful, strong, worthy, & loved."
After spending six weeks away from her family to concentrate on her mental health, Lowell announced on Friday that she would soon be reunited with her family. "I'm going home tomorrow!" the reality star tweeted. "So excited for the future and seeing my family!! Six weeks of treatment and I feel good! Gotta work it when I get home thanks for all your support." Can I just say how much I love the fact that Lowell acknowledges the fact that her work is not over? Depression and anxiety are ongoing battles, and six weeks at rehab isn't going to magically cure anyone. To me, it seems like she's leaving her treatment with a very healthy (and realistic) mindset.
Baltierra was quick to praise his wife's progress on social media, writing on both his Twitter and Instagram accounts on Saturday, "Throwbacks of me & my wife at 15 when the duck face was all the rage & I bought glasses that were too big for my peanut head lol! Seriously though, Cate comes home today & I can't wait to just hug her for as long as I want." He continued:
I am so incredibly proud of her & the work she has done this past 6 weeks. She is a strong woman who has been through more than you know & her resilience continues to triumph over what life has thrown her way. I love you Babe @catelynnmtv hurry home please, I've missed you so much!
Followers and fellow Teen Mom stars were also quick to lift up Lowell on Twitter.
This wasn't the first time Lowell sought treatment for her mental health. In March 2016, for example, she had entered a treatment facility in Arizona for issues stemming from depression and anxiety, People reported. And although it might not be directly related, Lowell has faced some pretty tough situations in the past decade or so —like teen pregnancy, followed by the decision to give up her first daughter with Baltierra, Carly, for adoption. Lowell and Baltierra have kept in touch with Carly and her adoptive parents through the years. However, they have also been open about how difficult it's been to come to terms with their heart-wrenching decision.
As a fellow mom who has struggled with anxiety and depression, I admire Lowell for bringing awareness to mental health and for getting help for herself. Because the reality of the situation is each year, postpartum depression affects 11-20 percent of women who give birth, according to the Centers for Disease Control and Prevention (CDC.) And many, many more men and women — with and without children — cope with depression and anxiety. It's worth acknowledging. It's worth admitting you can't bear the heaviness of it all on your own. Because with the help therapy and/or medication — along with a strong support system — life doesn't have to feel so damn hard.
Check out Romper's new video series, Romper's Doula Diaries:
Watch full episodes of Romper's Doula Diaries on Facebook Watch.