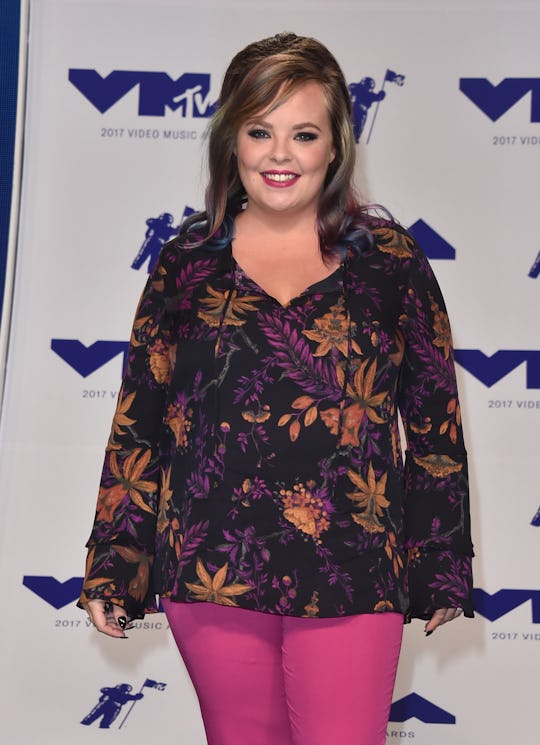 Alberto E. Rodriguez/Getty Images Entertainment/Getty Images
Catelynn Lowell Speaks Out After Seeking Help For Suicidal Thoughts & Her Strength Is Admirable
One of the original stars of what is arguably one of MTV's most popular shows is on the road to recovery. Despite some very trying times, Teen Mom OG star Catelynn Lowell recently spoke out after seeking treatment for suicidal thoughts and it seems that she's getting the help she needs to overcome her mental health struggles.
The 25-year-old took to Twitter on Thanksgiving to express her gratitude for all the good things she has going for her, a week after informing fans that she was seeking treatment for suicidal thoughts. "Happy thanksgiving!" she wrote on Thursday. "Today I am thankful for LIFE and thankful for my daughters!!!!"
On Nov. 17, Catelynn informed her fans via Twitter that she was struggling, writing, "Well today I thought of every way to kill myself.. so I'm going to treatment," along with the hashtag #MakeChesterProud, referring to the late Chester Bennington of the band Linkin Park, who committed suicide in July.
It's so incredibly important and admirable that Catelynn was able to recognize her mental state and reach out for help when she did. And considering the damaging stigma surrounding mental health, depression, and anxiety in society today, her openness is inspiring as it can be frightening for someone to admit they're having struggling.
Fortunately, Catelynn is lucky enough to have a strong support system standing behind her as she goes through this rough time. Her husband, Tyler Baltierra, has taken this time to publicly support his wife and her courage to seek help. "Incredibly proud of my wife," he shared on his own Twitter account after Catelynn announced her decision to seek treatment. "When she thought she had no choices left, she reached out & decided to LIVE today! My life would be desolate without her in it. You are beautiful, strong, worthy, & loved."
Catelynn certainly isn't alone in her mental health struggles. According to the National Resource Center for Mental Health Promotion and Youth Violence Prevention, "Women have a one in five chance of experiencing depression at some point during their lifetime." And when a woman has a child, that likelihood increases. So for Catelynn, who has given birth to two daughters — one whom she gave one up for adoption when she was a teen — there's absolutely nothing wrong with admitting she's been struggling. In fact, it's pretty darn brave and her fans definitely seem to agree.
This isn't the first time Catelynn has opened up about her mental health. The reality star entered a treatment facility in 2016 for postpartum depression and told MTV News at the time, "I'm seeking help for myself and my family." And in April, Catelynn told People that getting that help really helped her realize how important it is to maintain stable mental health:
So how am I going to be able to take care of a newborn when I can't take care of myself during those moments? It sucked and I felt guilty for a really long time. But now, two years up the road, I'm like, "Don't feel guilty. You took the time to get the help you needed and now you're more educated, so when you do have another one you know what to do."
Catelynn shared in a statement with Us Weekly about her reasoning for her most recent mental health checkup.
I'm taking the time I need right now to take good care of myself. On November 17th I thought of every way possible to commit suicide… from wrapping a belt around my neck to just running my car into an electric pole. THANK GOD I have a support system and a HUSBAND and a DAUGHTER, thank god I am self aware. I'm seeking treatment and I WILL get better… anyone feeling alone you ARE NOT ALONE! This world needs all of us! We are all here for a reason.
Taking care of one's mental health is so incredibly important, and Catelynn's dedication to getting better and her openness about getting the help she needs is helping both her family as well as her many, many fans.
If you or someone you know is struggling with suicidal thoughts or depression, contact the National Suicide Prevention Lifeline at 1-800-273-8255.
Check out Romper's new video series, Romper's Doula Diaries:
Watch full episodes of Romper's Doula Diaries on Facebook Watch.