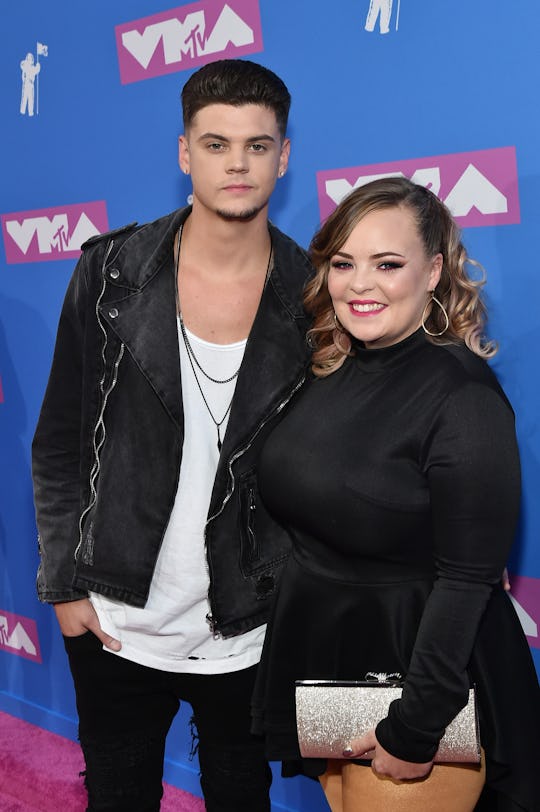 Mike Coppola/Getty Images Entertainment/Getty Images
Catelynn Lowell & Tyler Baltierra Are Really Hoping Their Rainbow Baby Is A Boy
Although parents-to-be can't necessarily choose the sex of their baby — except for in cases of in vitro fertilization, of course — many couples do have a preference one way or another. Sure, the most important thing, above all else, is healthy baby. But after spending months picturing a little boy or a little girl, only to find out the baby's sex is the opposite? Let's just say "gender disappointment" can be a very real experience. From the looks of it, one MTV reality couple definitely has their hearts set on one sex over the other. That's because Catelynn Lowell and Tyler Baltierra are really hoping their rainbow baby is a boy.
If you've lost track through the years, Lowell and Baltierra first appeared on MTV's 16 & Pregnant, during which they made the difficult decision to give up their baby girl, Carly, for adoption in 2009, according to People. In 2015, the couple welcomed their second child, a daughter they named Novalee. (Whom they are raising themselves.) Tragically, Lowell went on to have an early miscarriage earlier this year — a loss that contributed to her seeking mental health help via a rehab center — E! Online reported. However, it seems like things are finally looking up for the family of three — because soon they'll be a family of four!
News of Lowell's pregnancy broke on Thursday, Sept. 13 — and based on reports from today, it looks like both she and Baltierra have their hearts set on a baby boy this time around. "I think we both want a boy for sure, but also we have Nova," Lowell told Us Weekly. "So it's, like, if we're just meant to have girls, we're meant to have girls." She added, "With Carly too, it's like Tyler just makes girls. The guys make the gender." As for soon-to-be big sister, Novalee? She would love a baby sister, according to Us Weekly, (But she'd be okay with a brother, too.)
As Cosmopolitan reported, baby number three wasn't exactly planned — but Lowell and Baltierra are thrilled nevertheless. "The big news is that we are expecting our rainbow baby. This baby is our rainbow after the storm. I'm super excited," she told Us Weekly, according to the publication. "It was a huge shock at first. We were not planning it, especially after the miscarriage and how I went downhill with my mental illness." Lowell added:
We were going to wait a really long time. We were using protection and everything and still got pregnant. This baby just wanted to be here. It was very unexpected.
For the record, I can totally relate to Lowell and Baltierra wanting a boy this time around. When my husband and I found out our first baby was a boy, I'll admit was was initially a little bummed. (Mostly because I had grown up with sisters and felt like I knew nothing about little boys.) I was pretty pumped when I learned our next two children were girls. When I became pregnant with my fourth earlier this year, though, I was imagining adding a little boy to our family. However, the 20-week ultrasound revealed we were having another daughter — and I was surprised by my level of disappointment. It took a day or so to get used to the idea, but I'm now fully excited that our fourth (and final) munchkin will be a baby girl.
Although it looks like fans will have to wait a little while longer before the sex of Lowell and Baltierra's baby is revealed, I have a feeling it won't be too much longer. And from experience, I'm confident they will be over the moon for their new baby either way. Congrats, guys, on the amazing news of your rainbow baby!