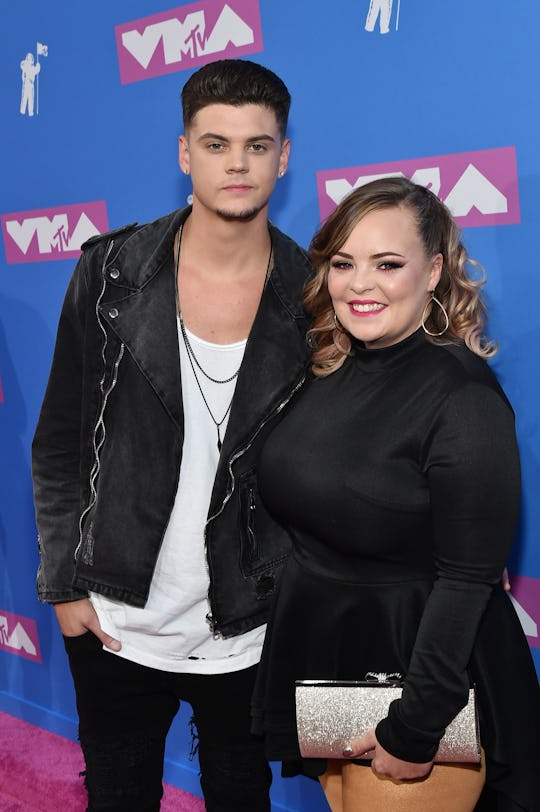 Mike Coppola/Getty Images Entertainment/Getty Images
This Video Of Catelynn & Tyler's Daughter Kissing Their Sonogram Photo Is So, So Sweet
On Teen Mom OG, fans are used to seeing Catelynn Lowell and husband Tyler Baltierra's struggles as parents to their daughter, Nova. But now fans can watch them revel in their happiness as they expect the birth of their third child. And watching their daughter Nova kissing a photo of Catelynn's sonogram in a video Tyler recently shared will instantly tug at your heart stings.
Fans have been there with Catelynn and Tyler since their heart-wrenching episode of 16 & Pregnant (which aired in 2009), when the couple decided to give their first daughter up for adoption after Catelynn got pregnant in high school, according to E! News. But a lot has changed since then — and fans have had the opportunity to watch the couple go through some extreme highs (getting pregnant again and getting married in 2015) and some extreme lows (both of them have been honest about their struggles with mental health, according to People).
Because of this, fans will be so happy to see Tyler's newest Instagram video, which assures everyone that the family (and their newest addition on the way) are doing great. In the video, 3-year-old Nova, can be seen holding on to the photos of her younger sibling taken during her mom's most recent ultrasound. "The baby is waving to me!," Nova says during the video, before kissing the pictures.
"We're getting a tiny baby!," Nova exclaims.
After watching the video, you can tell that her excitement around becoming a big sister is so real.
Fans really can't blame Nova for being as excited as she is. Last month, the couple announced that they were expecting their third child together, according to Us Weekly, and they were so happy about the news, with Catelynn telling the publication:
The big news is, we are expecting our rainbow baby. This baby is our rainbow after the storm. I'm super excited. It was a huge shock at first. We were not planning it, especially after the miscarriage and how I went downhill with my mental illness. We were going to wait a really long time.
"We were using protection and everything and still got pregnant," the mom-to-be added. "This baby just wanted to be here. It was very unexpected."
Although it might have been an unexpected surprise for the couple and everyone else in their lives, they're both extremely elated that they have another child on the way. "We love being parents and can't wait for our newest addition," Catelynn told Us Weekly.
The couple is reportedly calling their child on the way their "rainbow baby," according to Us Weekly, after they suffered a miscarriage earlier this year, according to People, which was documented on Teen Mom OG. "It's a loss and you feel it and you process it as a loss," Tyler said during the episode, according to People. "I guess it's something I didn't really understand before. It's crazy."
But now things are looking up. During this new season of Teen Mom OG (which is currently airing), fans have watched Lowell return to her family after entering treatment for her depression, and learn to cope with her loss every single day. In addition to what fans see on the show, following along with Catelynn's pregnancy on social media has been nothing short of exciting. On Instagram, the expectant mom posted that she "can't wait" to see Tyler be a father to their new baby and Tyler himself has been sharing super cute videos of Nova (in addition to this adorable one from Tuesday).
After following the couple and being a part of their journey for the past nine (almost 10) years, watching something as simple as Nova get excited about being a big sister makes this pregnancy so special for Teen Mom OG fans.