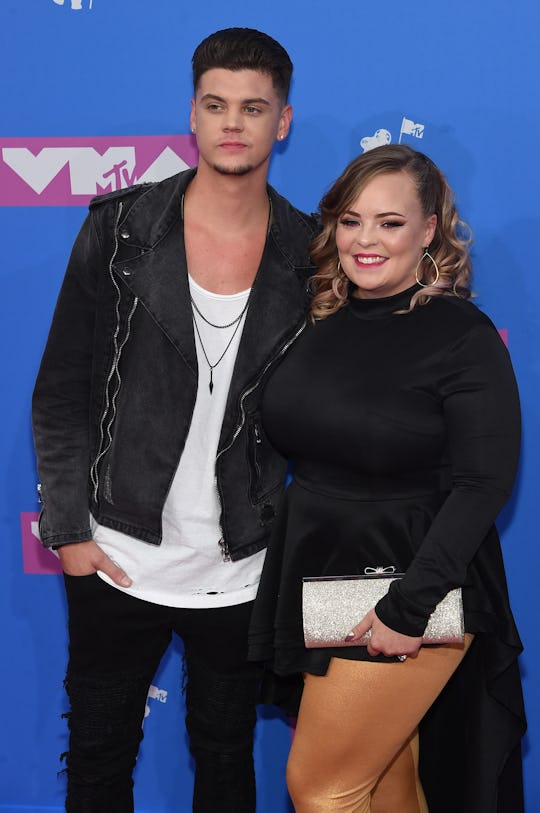 Jamie McCarthy/Getty Images Entertainment/Getty Images
Catelynn & Tyler Baltierra Had No Idea Bristol Palin Was Joining 'Teen Mom OG'
It's been nearly ten years since reality starts Catelynn and Tyler Baltierra welcomed MTV's cameras into their lives to film the first season of 16 and Pregnant, and since then, they've continued to share the ups and downs of their lives with viewers as part of the cast of Teen Mom OG. Given their long history with the show, it makes sense to think they'd be told about any major casting shakeups well in advance, but in a recent interview with fellow Teen Mom star Kailyn Lowry for her podcast, Coffee Convos, Catelynn and Tyler Baltierra reveal they didn't know Bristol Palin was joining Teen Mom OG, and that they actually found out about it at the same time as the rest of the world.
News of Palin's casting was definitely a big deal: in July, TMZ reported that the 27-year-old mom-of-three was set to join the cast for the show's upcoming season, and Palin then confirmed the story a day later in an Instagram post. But while it definitely seemed to be a surprising choice — though both Briana DeJesus and Mackenzie McKee have joined franchise in recent years, they'd both previously been involved in 16 & Pregnant and Teen Mom 3 — it turns out that Palin's cast mates were just as shocked by the news as their fans were.
Catelynn and Tyler opened up about the upcoming season of Teen Mom OG in the latest episode of Lowry's podcast, and said that, while they don't have anything against Palin specifically, they weren't at all thrilled with the way MTV handled the announcement that she was joining the show. For one? The couple claimed that no one from the network thought to call them ahead of time to give them the heads up. Tyler said,
The only problem I have with it, is the way that it came out in the media and stuff. It's like, we [started] the franchise, built it, sustained it for ten years. I think we deserve the respect to let me know what's going on when you're doing a major franchise shift that we helped build, create, sustain. So I feel like it's more of a respect thing.
Catelynn agreed, and said that she felt MTV "should have had the decency to call [them]" in advance, and that, even if show execs wanted to keep the news as a secret, the cast still should have been included. She said, "We've worked with [MTV] for ten years and nothing's ever leaked out. [They] should be able to trust us."
That seems like a pretty reasonable gripe — even though the stars don't actually film together (Palin and her children film from their home in Texas, while Catelynn and Tyler live in Michigan with their 3-year-old daughter, Novalee), finding out on the internet about a huge change to the show you've been involved with for so long seems like it would definitely be unsettling.
But it also sounds like it wasn't actually the first time the network kept the cast in the dark. Lowry said that when MTV announced in June 2017 that DeJesus would be joining Teen Mom 2, she hadn't known about that, either:
It's like nobody gets a call. Like, we're making a huge change to the show. This is what's happening. It hits the media before we found out.
When asked about Palin's casting at the MTV Video Music Awards earlier this week, Catelynn and Tyler again mentioned their frustration over the network's silence, according to Page Six, and told the outlet that they were "a little blindsided" by Palin's casting "because no one told [them]." But they also made it clear there's no need for a feud or drama: Catelynn said, "We don't know her … I'm not going to go into it with any, like, animosity or anything. I'd love to meet her and go from there."
Given the couple's long history with the Teen Mom franchise — not to mention the fact that, as cast members from the very first season of 16 and Pregnant, they were a big part of what made the show so successful — it does seem pretty surprising that they weren't given any advance notice that Palin was going to be joining the show. But while it's not clear whether or not Catelynn will actually have the opportunity to get to know Palin prior to the new season's premiere on Oct. 1, fans can at least look forward to seeing them together for the customary season finale check-in with Dr. Drew after the finale episode airs.