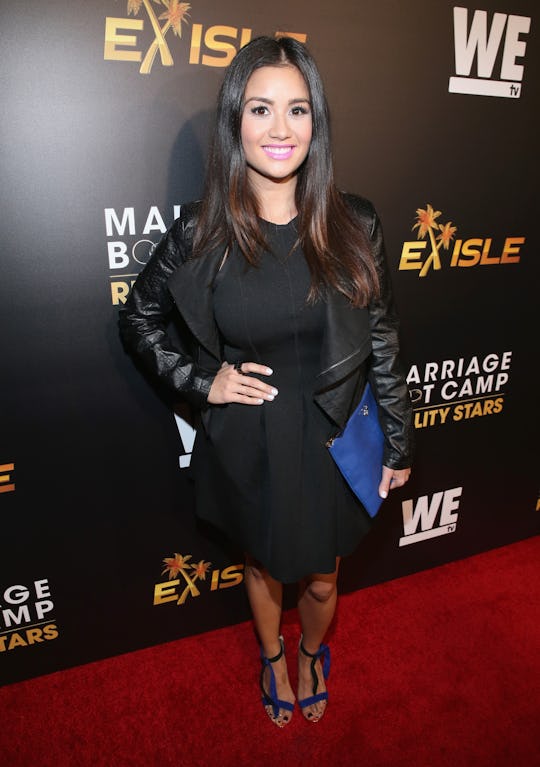 Jonathan Leibson/Getty Images Entertainment/Getty Images
Catherine Giudice Lowe's Best Parenting Instagrams Are Adorably Hilarious
Many Bachelor couples don't last too long after the reality show wraps before splitting ways — but Sean and Catherine Giudici Lowe have been quite an exception to the rule. Not only did they get married, but they seem to be enjoying the latest addition to their family: their newborn son, Samuel Thomas. In case you're curious about the tot and his fun-loving parents, Giudice Lowe's best parenting Instagrams offer a great little peek into the Lowes' lives post-baby. I think it's safe to say that the Bachelor graduates have been having a fun time raising a newborn.
In case you've fallen behind on your Season 17 trivia, Sean and Catherine Giudici Lowe got married on live television in January 2014 (about a year after their season of The Bachelor stopped airing), and announced in December 2015 that they were expecting. After many a cute update of baby bumps and baby showers, Giudici Lowe let the world know on July 2 that Samuel Thomas Lowe had been born.
Since then, Giudici Lowe has been updating the world with adorable pictures and hilarious Twitter updates about that #momlife. She's even mixed her parenting and her Bachelorette-watching tweets together, tweeting on Monday night, "My newborn's sharts are more exciting than this date."
But I know you came here for the cute baby photos — so here you go:
Giudici Lowe's First Snap Of Samuel On Instagram
In her usual, hilarious way (does anyone else see Giudici Lowe becoming the Chrissy Teigen of reality TV?), the new mom captioned this shot, "He's a boob guy."
Those Matching Frowns, Though
I'm onto you, Lowe. That frown cannot hide her maternal happiness.
Dress-Up Day
Following her "boob guy" caption, Giudici Lowe tweeted, "IVE NEVER DISCUSSED MY BOOBS SO MUCH IN MY LIFE." Ahh, the joys of motherhood.
Samuel Thomas Gets His Flirt On
"History: D, Math: F, Flirting: A+," Giudici Lowe captioned this shot. "DO YOU SEE THIS MACKDADDY." This boy is clearly going to be just as smooth as his parents are. (Future Bachelor, anyone?)
Just Look At That Baby Face
Giuldici Lowe then compared her son to Wallace Shawn on Twitter, and it's the cutest:
Last But Not Least: These Are Just Way Too Sweet
Want to know the best thing about all of Giudice Lowe's adorable baby photos? They were posted within a single month — which means fans can probably expect many more to come as the Lowes tackle parenting with wit and plenty of fun.