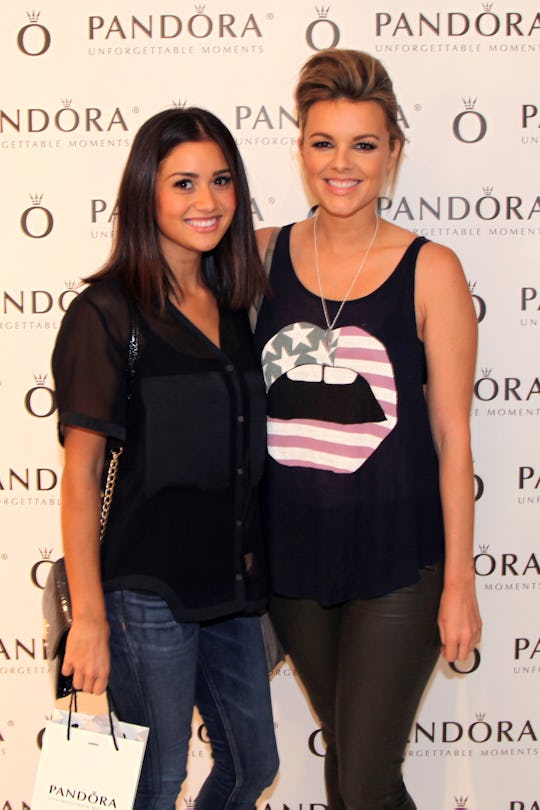 Rochelle Brodin/Getty Images Entertainment/Getty Images
Catherine Giudici & Ali Fedotowsky's Pregnancies Are Totally Different, & That's OK
They may be good friends who have both searched for love on The Bachelor, but when it comes to pregnancy, they couldn't have less in common. Catherine Giudici and Ali Fedotowsky's pregnancies are totally different experiences according to Today, and their honesty about it is super refreshing. In an interview with Fit Pregnancy and Baby, the Bachelor alums discussed the many ways their pregnancies are night-and-day: while Fedotowsky and her fiancé Kevin Manno were trying hard to get pregnant (and suffered an early miscarriage prior to her current pregnancy), Giudici and Bachelor hubby Sean Lowe were completely surprised by their positive pregnancy test. Fedotowsky shared she is loving her pregnancy body, while Giudici is finding is hard to adjust to her new shape. Fedowtowski struggled with morning sickness while Giudici has felt totally fine. And while Fedotowski is totally ready for motherhood, Giudici said she feels mega unprepared.
Even though the long-distance friends have been a source of support for each other throughout their respective pregnancies (they are both due in early July), there hasn't really been much overlap at all in how they've felt about their paths to motherhood. And it's so important that they're sharing that truth — after all, as much as it can sometimes seem like there's only one "right" way to be pregnant (feeling great, being totally excited, embracing your mom-to-be self), the reality is that pregnancy is a massive change that affects every woman so differently. And there's no shame in that at all.
But preparedness and body changes aren't the only ways the two moms-to-be are totally opposite (in fact, it's hard to think of one thing they have in common!). As anyone who's ever been pregnant knows, pregnancy hormones are totally unpredictable, and for Giudici, those hormones have ensured her libido is just as active as ever. According to Us Weekly, Giudici shared that she and Lowe are totally down for pregnancy sex on the regular:
I've always wanted sex with my husband, and that's not changed one bit. I'm grateful Sean isn't scared to do it with me, and he tries to be gentle. We're obviously not doing crazy stuff, but you can still do the same stuff you were doing before.
As for Fedotowsky, well, let's just say she doesn't exactly feel the same way:
I don't want to have sex at all. Mentally, I can't get past the fact that something so adult is happening in the presence of my little baby. I mean, we'll be intimate once in a while, but it's not the same. All I think about is the baby. And when I was sick during the first trimester, I was like, 'Get the hell away from me. If you come near me with that thing, I will strangle you.'
They feel differently about the type of delivery they will have, too: while Fedowtowski is totally down for pain-relieving drugs ("I want the epidural as soon as possible," she told the mag), Giudici said her goal is to go completely epidural-free. But she also has a Plan B: a safe word to signal to Lowe that the pain is too intense, at which point she is completely willing to reconsider.
Even though their pregnancies may be totally different, in a few short months, they will have brought them both to the same place — as new moms to tiny infants (Fedotowsky is expecting a little girl, while — surprise! — Giudici opted not to find out). And that, after all, is really the only similarity that actually matters.