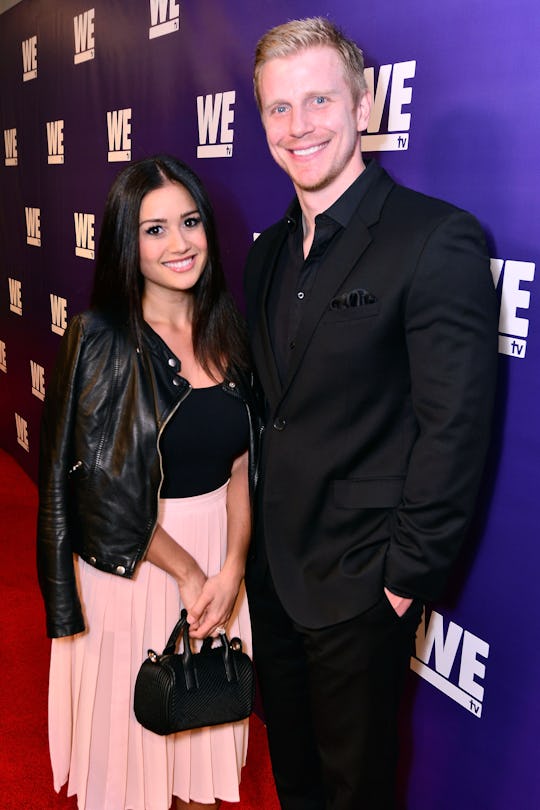 Jerod Harris/Getty Images Entertainment/Getty Images
'Bachelor' Fans Are Loving Catherine Giudici's Sweet Post About Sean Lowe Ahead Of Father's Day
There is a reason why so many people can't get enough of The Bachelor and The Bachelorette week after week: People really believe in love. And when couples from the reality series end up working out, it gives hope that people can find their fairy tale ending, even on TV. That's why The Bachelor success story, Catherine Giudici-Lowe and Sean Lowe's relationship is so sweet to follow on social media. They're living proof that love is real. Most recently, Catherine Giudici shared a message to Sean Lowe ahead of Father's Day and it's so incredibly sweet, you really can feel the love between them.
As if Giudici and Lowe's family wasn't cute enough, she had to go ahead and brag on her husband on Instagram — and you can't blame her. After Giudici gave birth to the couple's second son, Isaiah, last month, and joined their almost 2-year-old son, Samuel, according to E! News, both mom and dad have been posting nonstop about their super adorable family on social media.
So Father's Day is this Sunday, but let's be real, every day is a great day for kids to express their gratitude for both parents and for everyone to express their appreciation to the "fathers" in their lives. Giudici seems to agree with this, taking to Instagram to express her appreciation for her husband before Sunday.
"This man has been so extremely patient, attentive, and loving toward me and our boys since I got pregnant with Isaiah," Giudici wrote in the caption of the photo.
Giudici continued in the caption, stating how appreciative she is for her husband:
Father's Day is on Sunday but I really appreciate everything he does for us on the daily. The guy you witnessed on The Bachelor/ette, that wholesome, respectful, hot, family guy is still around but this time, I'm the only woman in his life and he makes sure I know that every day. I love you honey, you are a great, great man.
The comments section of Giudici's post quickly flooded with comments from people who agree with her kind words. "I love this!" one commenter wrote.
"This photo melts my heart," another commenter chimed in.
But the majority of the comments are filled with emoji — crying face and loads of hearts — that perfectly capture the emotions that words just can not.
If you take one look at any of Lowe's most recent Instagram posts, you can see that Giudici's message is so true. Out of the last 10 posts posted to Lowe's account, six of them have been devoted to Samuel and Isaiah and how much he loves them. Watching videos of Lowe interact with Samuel just proves that the love is beyond mutual. And Lowe's words about his family and his sons is just further evidence of this. In an interview with E! News, Lowe revealed that he had been doing quite a bit in their household — mainly, keeping Samuel occupied while Giudici cares for the new baby. Lowe said, according to E! News:
Our new son, Isaiah, he sleeps all day, and Samuel, he's a really good dude. He's a toddler, so he's got a bunch of energy. So, it's kind of my job, as Catherine takes care of Isaiah, it's my job to take Samuel, take him to the park or I'll walk him to the doughnut shop or whatever — just get the energy out of him is kind of my job.
Awww. And you can tell that Lowe takes his job very seriously. Not only is he super focused on being attentive to Samuel's needs, but Lowe told Us Weekly that he also spends a lot of time with Isaiah — enough to warrant a few wardrobe changes throughout the day. "I don't think I've gone through the day wearing one clean shirt because I'm constantly spit up on," Lowe said.
While this won't be Lowe's first Father's Day, it will be his first Father's Day as a father of two. But from the sounds of it, Lowe doesn't need just one day out of the year to know how much he is loved and appreciated.