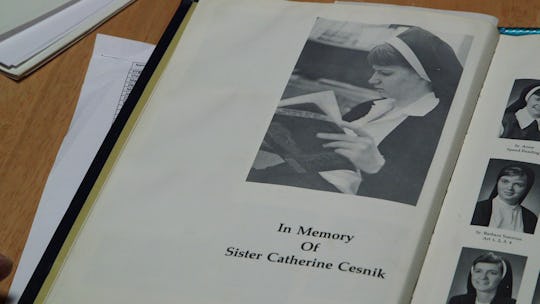 Courtesy of Netflix
Cathy Cesnik's "Death" Poem In 'The Keepers' Is Poignant
(Warning: This post contains spoilers from the entire first season of The Keepers.) The seventh and final episode of The Keepers came to an end with a poem written by Sister Cathy Cesnik, one of the most central figures in the story. Forty-eight years after she was killed, Cesnik's sudden and violent death remained a mystery without a clear answer; the series may have uncovered many curious connections that could make an answer possible one day, but it concluded without a definitive resolution. Despite the continued uncertainty (which is to be expected with most true crime series), Cathy Cesnik's "Death" poem in The Keepers was a particularly poignant way to bring the series to a close.
Read aloud by Cesnik's younger sister Marilyn Cesnik Radakovic, the poem is a glimpse at the inner life of the young woman whose tragic death was the focus of the series. It allowed for Cesnik's voice to be heard, even just a little bit, when she was not there to speak for herself. Written 10 years before the murder when Cesnik was only 16 years old, "Death" becomes especially haunting because of what happened to her. The circumstances of her untimely passing give the poem new significance, but hopefully the poem can provide a little bit of peace, too. What happened to Cesnik was unaccountably awful, but perhaps there is comfort to be found in her own words.
Some people meet death with open arms
And thank God their time has come.
Other's beg to be spared for just one more day
Saying there is much to be done.
But if we, before performing an act, would stop and think of death
Of death, of judgement and of all such things
I'm sure we would do our best
So that when our time comes, we may say:
"Take me lord without delay."
It's difficult to find a conclusion in a case like Cathy Cesnik's. After so much time has passed, the person who committed her murder might never be brought to justice. Her death is made all the more painful by the fact that she was, by all accounts, a kind and compassionate person who was dedicated to students she taught at Archbishop Keough High School. Trying to protect them from the abuse they were being subjected to may have cost her her life, some suggest in the series.
There are no easy answers with cases like this one. There was much left to be done in Sister Cesnik's life, but there is no denying that she did do her best. She tried to do something good and, regardless of the outcome, that meant her life was not lived in vain.