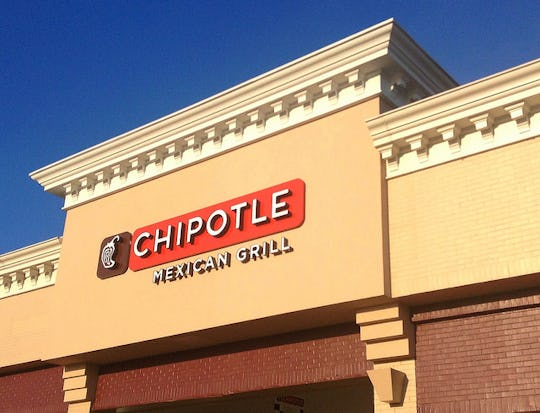 Mike Mozart/Flickr
Cause Of Chipotle-Linked E. Coli Outbreak Is Still Unknown, Health Officials Say
Last week, after an E. coli outbreak was allegedly linked to eight Chipotle restaurants in Washington and Oregon, the popular Mexican restaurant chain temporarily shut down 43 of its West Coast locations. Health officials now say they have not been able to identify a cause for the Chipotle-linked E. coli outbreak that caused 42 people to become ill, according to the CNN. Following an investigation, the chain officially announced Tuesday morning that Chipotle will re-open all closed locations, as soon as this week. But that still begs the question: What did cause the outbreak?
The Washington State Department of Heath found no traces of E. coli in their food sample tests, although Chipotle has conducted their own tests with some results still pending. Chipotle has also conducted additional sanitation and deep cleaning nationwide, and all ingredients in the affected restaurants were replaced. Identifying the source of an outbreak can be incredibly hard, say experts, since often the contaminated food has either been consumed or tossed before samples have been gathered. As Jonathan Modie, an Oregon Health Authority spokesperson, told ABC News, "Finding the source of the outbreak is often like finding a needle in the haystack."
When reached for comment, a rep for Chipotle directed Romper to a statement on the restaurant chain's official website written by Steve Ells, the company's Co-CEO:
The safety of our customers and integrity of our food supply has always been our highest priority. We are sorry to those affected by this situation, and it is our greatest priority to ensure that we go above and beyond to make certain that we find any opportunity to do better in the area of food safety.
Admittedly, it hasn't been a great year for Chipotle — the E. coli Outbreak, which hospitalized 14, comes on the heels of another Minnesota outbreak of salmonella linked to Chipotle tomatoes in early August. In that case, an investigation did prove that the tomatoes were in fact the cause of the outbreak. In a statement issued to CNN Money in September, Chipotle reiterated their commitment to quality food and exemplary customer service:
The safety and well being of our customers is always our highest priority. While this issue in Minnesota does not present an ongoing risk to consumers, we are committed to working with health department officials while they look to determine a cause.
That said, I have to say — all this talk of Chipotle is really making me crave a burrito bowl right now.
Images: Mike Mozart/Flickr; Giphy