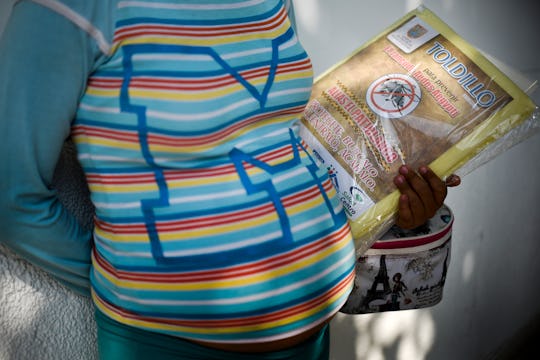 LUIS ROBAYO/AFP/Getty Images
CDC Says Zika Has Spread To Dozens Of Pregnant Women Across US In Shocking New Numbers
According to the Centers for Disease Control and Prevention, 157 pregnant women in the U.S. have Zika, according to a new report. Another 122 pregnant women have been infected by the virus in U.S. territories. This is the first time the CDC has reported specific data on the spread of the Zika virus in the United States.
Their report does not go into detail about the outcomes or treatments of those pregnancies, but it does say that they are being closely monitored and developments "will be shared in future reports." Since the discovery of the Zika virus, the CDC has confirmed the connection between the mosquito-borne virus and severe fetal abnormalities and neurological complications, including microcephaly. That rare condition causes infants, in utero, to develop with an abnormally small head, and hundreds of cases have been tracked already in South and Latin American countries since their Zika outbreaks last year.
Since then, the disease has spread to Caribbean countries and the United States. Puerto Rico reported its first case of microcephaly caused by the Zika virus in early May 2016. According to a health department statement, the male fetus showed "severe microcephaly and calcifications in the brain accompanied by Zika-wide presence of the virus." The abnormality was detected early by sonogram and is now being used to study the disease. According to CBS News, Health Secretary Ana Rius said that the fetus (which either was aborted or miscarried) was turned over by a Puerto Rican woman and is currently being tested by U.S. health officials.
Because of the seriousness of the possible complications from contracting the Zika virus, the CDC has advised women to avoid traveling to Zika-affected areas, but, unfortunately, with its growing presence in the United States, that may become a difficult warning to heed. As temperatures rise, there may be local outbreaks of the Zika virus, especially in regions where the Aedes aegypti mosquito — the virus' main carrier — is common. Southern and southwestern states are particularly at risk, but the mosquito has been tracked as far north as New York.
The CDC reported in February that two pregnant women infected with the Zika virus in the United States had chosen to have abortions, and two others had suffered miscarriages. These newly released numbers show that Zika is no longer a faraway issue; it's a global health concern. Politicians on both sides of the aisle are lobbying to increase funding to stop the spread of Zika and work towards a vaccine, but efforts have been met with resistance from GOP members of Congress.