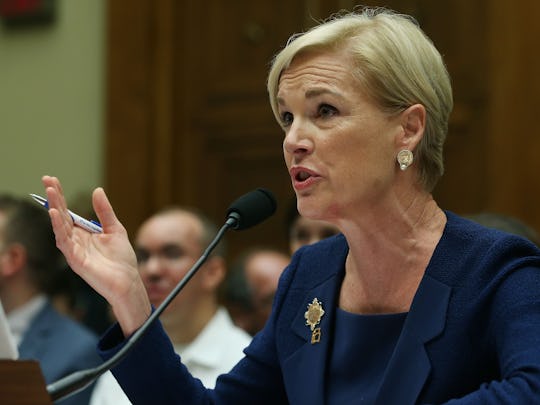 Mark Wilson/Getty Images
Cecile Richards' Comments On Planned Parenthood Attack Show Just How Much Of A Leader She Is
The public is still trying to process the latest violent attack on Planned Parenthood, after a gunman entered a Colorado Springs Planned Parenthood, killing three people and wounding nine others, all of whom are currently in "good" condition. Of the nine who were injured, five are said to be police officers. The first victim to be identified is 44-year-old police officer Garrett Swasey of the Colorado Springs Police Department. Though police have custody of the reported gunman after an hours-long standoff, details are still incredibly slow to trickle out. The Colorado Springs Police Department has classified the location of the shooting an "active crime scene," and we can expect information on the other two victims, the wounded individuals, and information and motive on the gunman will continue to come out in the coming days.
While little is known about the perpetrator of this violent attack, Colorado Springs Mayor John Suthers did release a statement, ensuring the public that the suspect was in police custody and the situation was resolved. Police were able to safely evacuate numerous individuals who were trapped inside the clinic, while CSPD and the suspect exchanged gunfire.
In the wake of the attack, many have taken to twitter to voice their care, concern, and solidarity for Planned Parenthood, those involved, the CSPD, and women everywhere who've ever felt persecuted or in danger for seeking safe and affordable reproductive healthcare. President of Planned Parenthood Cecile Richards was among them, sending a series of tweets that proved that she is the voice of an institution that values women, their health, and their constitutional rights. While her words were thoughtful, powerful, and heartfelt, they also weren't much of a surprise, either. Earlier this year, Richards was calm, cool, and gracefully collected during a congressional Planned Parenthood hearing that aimed to attack Planned Parenthood from every angle.
She was the leader Planned Parenthood needed then, and she's the continued leader Planned Parenthood needs now. Her tweets only further prove that, and in a time of complete devastation for the organization and the men and women who rely on their care, they're the words they needed to hear. In fact, her words are words we all needed to hear.
She tweeted:
While many might use this opportunity to attack Planned Parenthood, its mission, and its credentials, we could all do best to take a page from Mr. Rogers' book:
Look for the helpers. You will always find people who are helping.
Today and tomorrow, let's be helpers. Let's be healers. Hate can wait.
UPDATE: Late Friday authorities identified 59-year-old Robert Lewis Dear as the suspected gunman who fired into a Planned Parenthood in Colorado Springs earlier in the day. Dear is reportedly from North Carolina.
Image: Mark Wilson/Getty Images