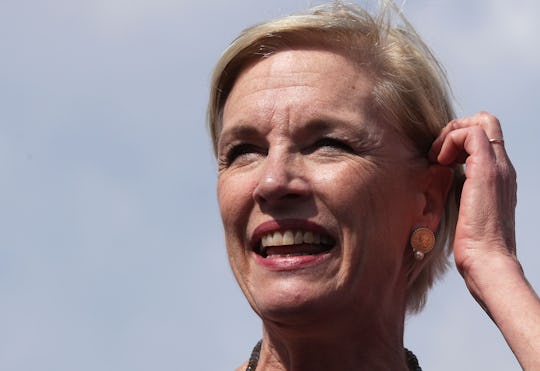 Alex Wong/Getty Images News/Getty Images
Cecile Richards Is Reportedly Stepping Down As The President Of Planned Parenthood
The political climate of the past year has definitely been tense, in more ways than one. More and more women are stepping up to run for office and reproductive rights are being challenged daily, something organizations like Planned Parenthood have long been fighting to protect, with the leadership of Cecile Richards. However, things may be changing this year as it was reported on Wednesday Richards is reportedly stepping down as the president of Planned Parenthood, according to a new report from BuzzFeed news.
"Cecile plans to discuss 2018 and the next steps for Planned Parenthood's future at the upcoming board meeting," Planned Parenthood told Romper in a statement on Wednesday. According to BuzzFeed News, two sources confirmed to the outlet that she plans to step down from her position, adding that the board meeting is scheduled for late next week.
Richards has been Planned Parenthood's president for more than 20 years, taking over the position in 2006. She has been a prominent and powerful voice for women's rights activists during her time with the organization, and has led the charge behind many of Planned Parenthood's most political moves. Many credit Richards, 60, with garnering more donations for the organization, as well as extending Planned Parenthood's political reach, according to The Hill.
Indeed, Richards has been a large part of the general public seeing reproductive rights as a political issue and one that Democrats in particular feel strongly in favor of. Her departure from the organization, while officially unconfirmed, could mark a drastic shift for Planned Parenthood.
This news is especially surprising for many considering Richards recently helped Planned Parenthood celebrate the 45th anniversary of the Roe v. Wade decision in which the Supreme Court made abortion legal. For Richards, even though the Roe decision made it clear that access to abortion was a right any woman should have in the United States, that doesn't mean that the fight is over.
Something Richards has been passionate about specifically is women standing up to the current administration and running for office and leading the resistance. So the news that she potentially might be stepping down certainly comes as a shock for many who have been following her career. However, as the daughter of former Texas Gov. Ann Richards, many are wondering if her next career move will be running for office.
Richards' mother, Ann, was a legend in Texas for managing to stand out as a strong Democrat in such a conservative state. In fact, as Vanity Fair reported, Gov. Richards was also pretty opinionated, as she once said that George Bush "was born with a silver foot in his mouth." Richards herself hasn't really spoken about whether or not she would actually run for office, but many see her stepping down from Planned Parenthood as the first step in the process.
Even though both Richards and Planned Parenthood have yet to confirm BuzzFeed's report, abortion rights activists have cause to be concerned if Richards really is stepping down, as she has held a strong line against the Trump administration's promise to end federal funding for Planned Parenthood.
But while Richards' future job prospects are still uncertain, one thing is clear, she has no intentions of stepping down from a fight. Speaking at an event for Lenny Letter last fall, Richards said that she would always keep going, according to Vanity Fair:
I feel like these mornings I get up and I go, "I swear to God we just rolled that boulder to the top of the hill, and here it is again." I think just every morning you gotta get up and fight again.
For now, Richards is still the president of Planned Parenthood and, according to BuzzFeed's report, any change of plans could be addressed as soon as next week.