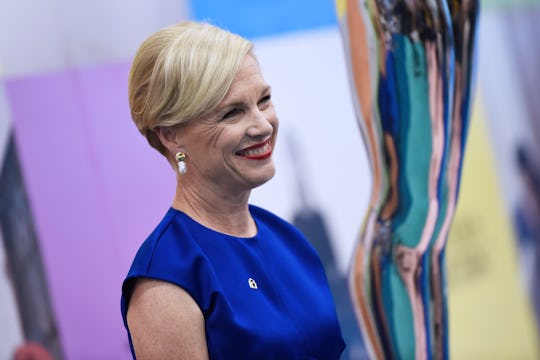 Roy Rochlin/Getty Images Entertainment/Getty Images
What Happened When Cecile Richards' Son Found A Condom
As the face of the reproductive rights movement in America, it's no surprise that the president of Planned Parenthood would have some important things to say about practicing safe sex. That's all well and good when you're advocating for the public sexual and reproductive health of millions of Americans — but what about those public health moments at home? In an interview for People's web series "Celebs Get Real," Cecile Richards talked about when her son found a condom at home — and of course, her response was amazing.
Richards is a mom of three adult children: 26-year-old twins Daniel and Hannah, and a 30-year-old daughter, Lily. Richards recounted the story of when her twins were around 5 or 6 years old, and her son made that awkward discovery that many parents dread. Imagine this: She's doin' the mom thing, barbecuing in the backyard of their Texas home when her son Daniel came out of the house with an unrolled condom and asked, "Hey mom — what's this?" Richards' response was perfect, according to People:
It could have been an embarrassing moment — it was mortifying for his sisters — but it was a great teachable moment about what a condom was and why it was important, and why protection is important.
Richards' sex positive response to her son finding a condom shouldn't come as a surprise, but it illustrates that even the most embarrassing parenting moments can be some of the most important ones for our kids, too. It's also a great reminder that not all kids are overt in their discoveries about sex and sexuality, either. There are plenty of kids who might stumble upon a box of condoms or a bag of sex toys and never mention it to their parents — so there's no reason that parents have to wait until their kid comes walking out into the backyard with a condom in hand to make it a teachable moment, just as Richards did two decades ago with her young son.
In addition to talking about her most embarrassing parenting moment, Richards shared the most important thing she learned from her mother: "No matter what chance you have, take it. Don't look back." While the advice was meant in broader reference to her own feminist empowerment, it's great advice for those "Hey mom, what's this" moments from kids, too. It's easy to just stammer and pull the old "We'll tell you when you're older" parenting schtick, but taking the chance to lay out the truth about sex to your kids — in an age appropriate way, of course — does a much greater service to them in the long run.