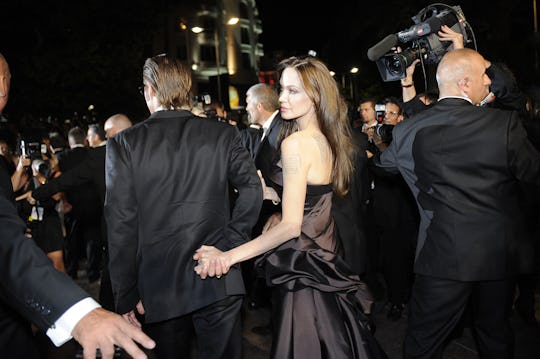 ANNE-CHRISTINE POUJOULAT/AFP/Getty Images
Celeb Couples To Give You Hope, Now That Brad Pitt & Angelina Jolie Have Parted Ways
On Tuesday, Hollywood power couple Brad Pitt and Angelina Jolie (aka Brangelina) announced their impending divorce, and romantics all over the world howled in despair (well, except for those who have steadfastly remained Team Jen all these years, who howled in vindication). Passion never lasts, Cupid has flung down his bow in shame, and true love is dead! But wait — if you're starting to worry about whether relationships can ever out, there are still plenty of celebrity couples to give you hope now that Pitt and Jolie are no more.
Though many of the following couples have flown much more under the radar than Pitt and Jolie — who must have set a record for the number of tabloid and celebrity magazine cover stories featuring their gorgeous faces — they all have kick-ass, inspiring, and/or super freaking adorable love stories of their own. And sure, they might not have nifty portmanteaus like Brangelina, but that doesn't mean we can't smush their names together and keep saying the resulting nickname until it happens! It'll be so fetch.
Read on for the best celebrity couples still giving this whole "love" thing a shot, then choose which one (or more!) to direct all that old Brangelina energy towards. And let's cross our fingers that none of them ever decide to throw in the towel, or else we'll really be in trouble.
John Legend & Chrissy Teigen
He wrote "All of Me" about her. Come on. Also, as one Twitter user put it:
Celebrity Couple Name: Chron
Nick Offerman & Megan Mullally
The two super-comedians have been together since 2000. He supported her when she was way more famous, and then when he got his big break on Parks and Recreation, she guest-starred as his insane ex-wife, Tammy II. He told GQ that, despite their success, they put the relationship first, and that, "We have a rule that we will never do a job that will keep us apart for more than two weeks."
Celebrity Couple Name: Offerlally
Kristen Bell & Dax Shepard
Bell has been refreshingly open about their relationship, which began in 2007, telling Glamour she knew he was her perfect match when:
Setting aside the love we had for each other, I recognized he made a decision to choose me... Because actually, at our hardest times, at the times we were screaming at each other, that I recognized he was the one because he wasn't leaving.
Celebrity Couple Name: Krax
John Krasinski & Emily Blunt
At first it seemed like nothing would ever top Krasinski's fictional Office romance. (Jim and Pam forever!) And then he met Emily Blunt, and the angels sang.
Celebrity Couple Name: Blasinski
Chris Pratt & Anna Faris
They are perfectly goofy together, and practically perfect in every way.
Celebrity Couple Name: Praris
Ellen Degeneres & Portia De Rossi
De Rossi has talked before about her struggle to accept her sexual identity and to be vulnerable, and how her wife has "completely changed the way I look at life."
Celebrity Couple Name: Pellen DeGenerossi
And finally...
Michelle & Barack Obama
Duh.
Celebrity Couple Name: Rulers of the Universe
So while Brangelina may be officially on the outs... never fear. There's still plenty of love to go around.