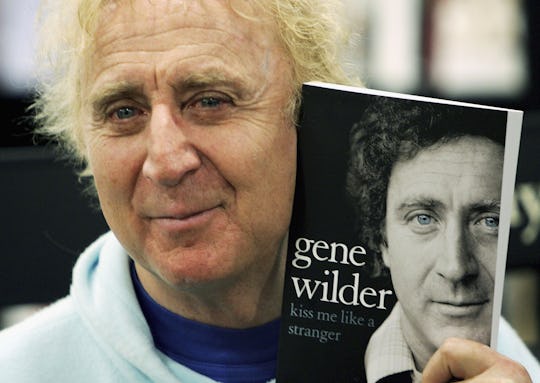 MJ Kim/Getty Images Entertainment/Getty Images
Celeb Reactions To Gene Wilder's Death Show He Was Admired By Many Among His Profession
On Monday, news broke that Gene Wilder — known best for his iconic roles as Willy Wonka and in Mel Brooks films such as Blazing Saddles — has died at the age of 83. His nephew confirmed to the press that Wilder died of complications from Alzheimer's disease on Sunday night. Across Twitter, celeb reactions to Gene Wilder's death have already begun pouring in, showing he was much loved and revered by many across the entertainment industry.
Even though it's been more than a decade since Wilder has appeared on TV or film, he was clearly admired by many, as the reactions on Twitter reveal. Wilder's last feature film was in 1991 — Another You — with fellow comedian and actor Richard Pryor. His last small screen role was a three-episode guest starring role as Will Truman's boss on on Will & Grace in 2003, which earned him an Emmy Award for his performance. Many fellow actors, comedians, and writers took to Twitter to express their grief, shock, and admiration for a man who shaped comedic charisma in the seventies and eighties — inspiring many in the entertainment industry when they were younger.
Director Mel Brooks shared his grief and tribute to a long-time friend:
Others, like comedian Patton Oswald, responded with anger (and for Oswald, rightfully so — his wife died suddenly earlier this year):
For many celebrities, their Twitter tributes and sympathy wishes showcased the impact that Wilder had on their lives and careers:
And of course, a touch of dark comedy, too:
Rest in peace, Mr. Wonka.