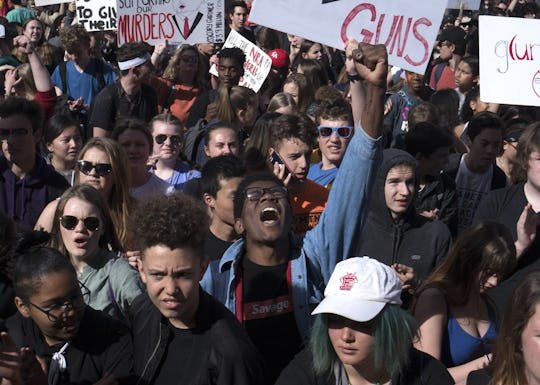 Ross Taylor/Getty Images News/Getty Images
Celeb Speakers Will Be At The March For Our Lives — But It Isn't About Them
Getting to see a famous person up close and in person is never the point of a protest, but it's certainly a nice bonus, and it might even help convince a few more people to participate. There will be celebrity speakers at March For Our Lives, at least in some cities, but the organizers want to make sure that attendees keep in mind that this is about the kids whose lives are threatened by gun violence every day, not just a photo op. To that end, two of the speakers at the Los Angeles march are celebrity teenagers: 15-year-old Disney Channel star Skai Jackson and 18-year-old Yara Shahidi, who stars in the Black-ish spinoff, Grown-ish, according to Deadline.
The L.A. march begins at 9 a.m. local time, and it's by far the most star-studded satellite event of the day, as one might expect, given its location. The rally is also expecting appearances and musical performances by Amy Schumer, Connie Britton, Olivia Wilde, Charlie Puth, the Denver Choir, Lara Downes, Ta'Rhonda Jones, Cappie Pondexter, Bret Lockett, Hasan Piker, Jacob Sartorius, Mason Cook, Meg Donnelly, Sierra Dupri, and L.A. mayor Eric Garcetti, Deadline reported. Just remember that this is about demanding common sense gun legislation, not getting a selfie with your favorite star.
The Washington, D.C. march, which starts at 10 a.m. Eastern Time, is staying true to the "by teens, for teens" ethos, at least as far as speakers go. In addition to the Parkland shooting survivors, students from local schools will also speak at the rally, and no featured speaker will be older than 18, according to the Washington Post. That doesn't mean there won't be any celebrities at all, of course; they just won't be speaking. Jimmy Fallon is among the many stars planning to join the march, according to CNN. On Tuesday night, the Tonight Show host encouraged his audience to attend, and promised that he'd be there, along with his family.
The Washington march will also feature a number of musical performances from some huge names, according to the official website. As of Thursday, the scheduled lineup includes Hamilton creator Lin-Manuel Miranda, Common, Miley Cyrus, Andra Day, Ariana Grande, Jennifer Hudson, Demi Lovato, Ben Platt, and Vic Mensa. Those would be pretty impressive bookings for professional planners to score, never mind a bunch of kids with no experience organizing such a large-scale event.
There are more than 800 marches taking place worldwide on Saturday, and a few more have secured local talent to entertain participants and draw crowds — the Seattle march will feature a performance by hometown singer-songwriter Brandi Carlile, and in Portland, Oregon, protesters can catch a show by rock group Portugal. The Man. But most marches are focused on the voices of the students who started the movement, and their peers, who have grown up participating in lockdown drills and are fed up with congressional inaction.
March For Our Lives New York organizers posted on Facebook that they're "in the process of inviting speakers who have been impacted by gun violence, including a Parkland student," and reminded those interested in attending, "This is not about politics or photo-ops, this is about STUDENTS and all victims of gun violence." Boston's speakers are "confidential due to security reasons," according to the official website, but three of the Northeastern University students who are organizing the event are Parkland natives and Marjory Stoneman Douglas High School alumni, according to the university newspaper. Chicago's speakers have not been named, but according to the Tribune, they'll all be under the age of 21. If you were looking for a star-studded event like the Women's March, this isn't the protest for you, but if you want to meet the kids who are going to change this country for the better, they'll be there.
Check out Romper's new video series, Bearing The Motherload, where disagreeing parents from different sides of an issue sit down with a mediator and talk about how to support (and not judge) each other's parenting perspectives. New episodes air Mondays on Facebook.