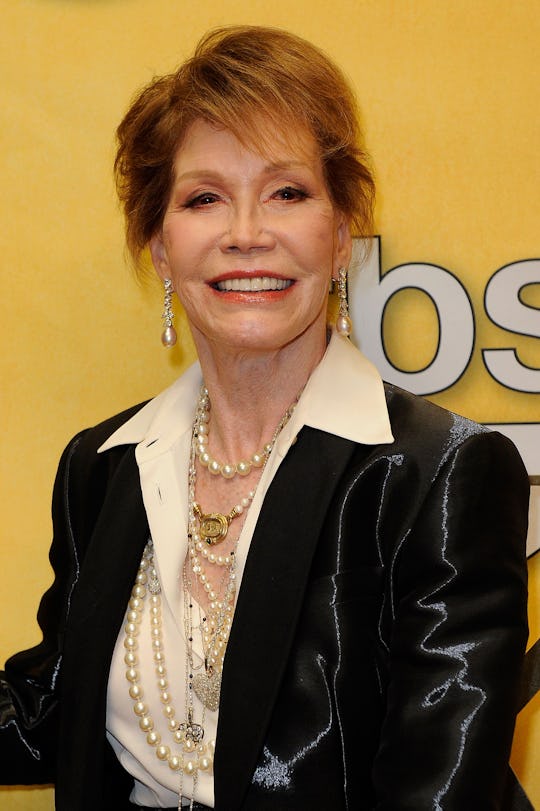 Kevork Djansezian/Getty Images Entertainment/Getty Images
Celebs React To Mary Tyler Moore's Passing
In time when grief feels all too common these days, it is with a heavy heart that the world has now lost another truly inspirational Hollywood icon. Mary Tyler Moore has died at the age of 80. Her longtime rep, Mara Buxbaum, confirmed the actress's passing to Romper, which reads: "Today, beloved icon, Mary Tyler Moore, passed away at the age of 80 in the company of friends and her loving husband of over 33 years, Dr. S. Robert Levine. A groundbreaking actress, producer, and passionate advocate for the Juvenile Diabetes Research Foundation, Mary will be remembered as a fearless visionary who turned the world on with her smile." Obviously, this is a huge loss to the entertainment community, so it didn't take long for celeb tweets and meme reactions about Mary Tyler Moore's death to come out of the woodwork.
Though for now it's unclear what the exact cause of death was, reports claim Moore had been on a respirator for more than a week prior to her death. So whatever happened, this doesn't appear to be completely out of the blue. But for her fans and former costars, that doesn't make the grief any more bearable. It goes without saying that she was beloved by many not long after she starred on the The Dick Van Dyke Show back in the '60s, which was when she truly skyrocketed to fame. Since then, she's been an iconic part of the Hollywood community, and as these social media reactions indicate, she will very much missed.
Additionally, Moore increased her popularity and overall presence as an actress even more when she starred as Mary Richards on The Mary Tyler Moore Show throughout a vast majority of the '70s. Even if you're to young to have watched the show itself, odds are you've at least heard of The Mary Tyler Moore Show, which proves just how far her reach was.
Obviously, this is just a small sampling of all the love and praise that will be sent Moore's way throughout the day. Her life on and off-screen touched many lives, so it's no wonder the entertainment world is singing her praises. More messages will continue to show up throughout the day. But if you ever doubted Moore's greatness, I think her many works and these tweets speak for themselves. She may be gone, but the world will make sure she's never forgotten.