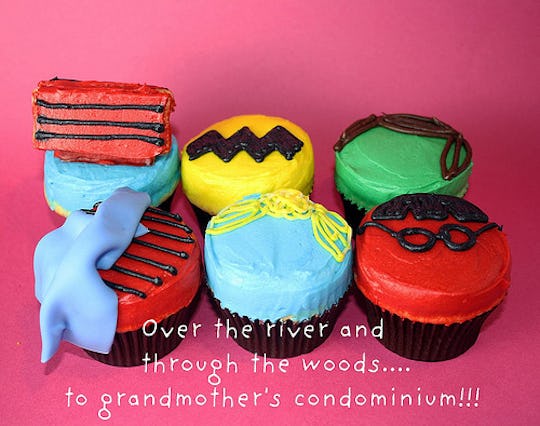 Celebrate 'The Peanuts Movie' With These Adorably Delicious Charlie Brown Cupcakes
The gang is back! The Peanuts Movie is now in theaters, and I for one could not be more excited. Snoopy is back to his usual antics, Lucy is still full of snark, and Charlie Brown is still pining after The Little Red Haired Girl. Since no movie viewing is complete without a snack, you'll want to have the proper sustenance. And although you could easily purchase some popcorn or pack of M&Ms, why not whip up (and sneak in) these Charlie Brown cupcakes, courtesy of Kristan from Confessions of a Cookbook Queen. 
Through some creative use of frosting and fondant, Kristan has created an adorable and edible homage to Charles Schultz's gang. Seriously, these cupcakes couldn't be any cuter. Each one of these confections honors a different member of the Peanuts squad. So whether you're a Charlie, Snoopy, Lucy, Linus or Sally (I'm totally a Sally), Kristan has a perfectly decorated cupcake for your Peanuts persona.  
And you don't have to be an amazing artist to create these treats. Parents can easily create these cupcakes with their children, making for a great weekend activity. If you're trying to save a little time (and a lot of sanity), then you can use store-bought cupcakes and frosting. But if you're adventurous and can't resist a homemade baked good, then I suggest trying out Confessions of a Cookbook Queen's snickerdoodle cupcakes or double chocolate cupcakes for your base.
When it comes to the decorating, use the characters Kristan has already expertly designed, but also have fun exploring the possibilities of dressing your sweets like the other Peanuts' characters.  Pigpen, Schroder, or even Woodstock would make great choices. Let your imagination run wild, and enjoy your Charlie Brown filled weekend. 
Images: Confessions Of A Cookbook Queen; Giphy