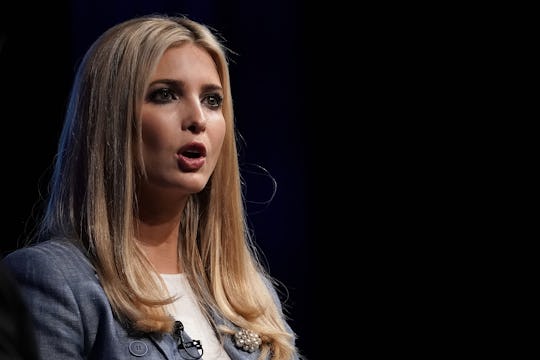 Alex Wong/Getty Images News/Getty Images
Celebrities Are Using #DearIvanka To Ask For Her Support Of Christine Ford
Those who have been paying attention are all-too-familiar with the recent allegations brought against Supreme Court nominee Brett Kavanaugh. Dr. Christine Blasey Ford has bravely come forward, alleging that Kavanaugh sexually assaulted her when they were both teenagers in high school. Unsurprisingly, Senate Republications have largely dismissed these serious allegations — and are dead-set on pushing forward with the confirmation hearing anyway. However, Democrats — along with millions of victims and supporters across the nation — are calling for an FBI investigation of Kavanaugh. Now, it seems celebrities are using #DearIvanka to ask for her support of Christine Ford.
The Instagram post — which has been shared by stars like Busy Philipps, Sophia Bush, Chelsea Handler, Alyssa Milano, Debra Messing, Melanie Griffith, and more, according to Us Weekly — seems to gaining steam among celebrities. Its message implores the eldest daughter of President Donald Trump to use her influence to help Ford get a fair investigation in regard to her claims against Kavanaugh. The post reads: "#DearIvanka, You don't follow me on social media. But as a public servant, you work for me. You've proclaimed yourself a feminist and a champion of women's rights. Right now, you have an opportunity to fight for women. Use your access to demand that Professor Ford's request for a full, fair, trauma-informed investigation by the FBI be held."
This plea to Ivanka likely comes as an answer to the GOP's overwhelming dismissal of Ford's allegations — as well President Donald Trump's disgraceful comments on the subject. As Slate reported, on Sept. 21, the POTUS tweeted, "I have no doubt that, if the attack on Dr. Ford was as bad as she says, charges would have been immediately filed with local Law Enforcement Authorities by either her or her loving parents. I ask that she bring those filings forward so that we can learn date, time, and place!"
Kavanaugh himself has repeatedly denied the sexual assault claims. In a letter to Senate Judiciary Committee Chairman Chuck Grassley, the Supreme Court nominee accepted an invitation to appear before the committee on Monday. Kavanaugh also noted he was anxious to "clear his name," according to USA Today. "Since the moment I first heard this allegation, I have categorically and unequivocally denied it," he wrote in the letter. "I remain committed to defending my integrity."
During an interview with The Washington Post, Dr. Christine Blasey Ford detailed how Kavanaugh and another male forced her into a bedroom during a house party in Maryland in the early 1980s. There, Kavanaugh allegedly groped Ford over her clothes, grinded his body against hers, and attempted to take off her swimsuit and the clothing she wore over it, according to Time. "I thought he might inadvertently kill me," Ford said. "He was trying to attack me and remove my clothing." Ford explained that she was eventually able to escape after Kavanaugh's friend jumped on them.
Aside from the recent #DearIvanka Instagram post, a group of celebrities has shown their support for Dr. Ford with a powerful letter to her. "Dear Professor Ford, We know how difficult it is to stand up to powerful people. We want to thank you for publicly sharing your story of sexual violence," the letter begins, according to Mashable. "As members of the Senate determine whether Supreme Court nominee Brett Kavanaugh should serve as a Supreme Court Justice, this context is critical. The behavior you described was wrong, and runs directly counter to upholding the law and promoting justice. He should not be confirmed." It continues:
... We applaud your courage in coming forward for the public good, and we will be with you as you face the inevitable backlash. You are strong. And you are not alone. You are a survivor. Millions of us have your back. You and your testimony are credible. We believe you. Signed, Your sisters.
For the record, this sort of situation — a victim coming forward with sexual assault allegations against a Supreme court nominee — isn't unprecedented. As CNN reported, George H.W. Bush called for an FBI investigation following Anita Hill's sexual harassment allegations against Clarence Thomas back in 1991. So it's entirely within the realm of responsibility for President Trump to do the same. In theory, some nudging from Ivanka could potentially change his mind on the matter. (But probably not.) At the very least, though, Ivanka would remain true to her former claims of being a "feminist" by doing her darnedest to advocate for Dr. Ford anyway.
Because allegations as serious as what Dr. Ford describes against Brett Kavanaugh deserve a full and fair investigation — and it's extremely unlikely that's what she'll get during her testimony before Congress next week.