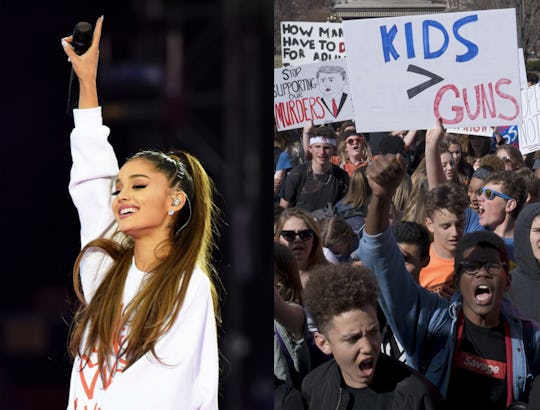 Getty Images/Getty Images Entertainment/Getty Images, Ross Taylor/Getty Images News/Getty Images
Here Are The Celebrities Showing Up & Supporting The March For Our Lives
On Wednesday, students and teachers walked out of schools across the country in a unified protest gun against violence. For 17 minutes — symbolizing the 17 victims who lost their lives at the school shooting in Parkland, Florida — they peacefully exited school buildings and stood outside. Now, proponents of common sense gun safety regulations are gearing up for another political demonstration: The March For Our Lives on March 24. Although the main protest will be held in Washington, D.C., there are sister marches scheduled in cities across the nation. And celebrities attending the March For Our Lives are using their influence to promote gun safety regulations.
On Wednesday evening, Parkland school shooting survivor, David Hogg, announced that four additional celebrities will be marching alongside students, teachers, parents, and average citizens for gun safety. "We're gonna have four major independent women that are standing with us and walking beside us, and those are Ariana Grande, Jennifer Hudson, Miley Cyrus and Demi Lovato," Hogg said during an appearance on CNN. "They're gonna be standing there with us and marching with us and they're some of the few people that are really coming out and stepping up with us." Hogg continued:
I think that's part of the huge support we're starting to see. We're not only seeing students that are stepping up now, we're seeing young Americans and young adults that are standing up with us. And that's how we're going to see this change.
Fellow Parkland student survivor, Jaclyn Corin, took to Twitter shortly after Hogg's announcement to confirm the news to her followers.
As the Sun-Sentinel reported, Cyrus, Grande, Hudson, and Lovato join a growing list of celebrities who have publicly supported the march. Previously, George and Amal Clooney donated $500,000 to the March For Our Lives, ET Online reported — and not too long afterward, Oprah Winfrey decided to match this donation, Time reported, followed by Steven Spielberg and his wife, Kate Capshaw, according to CNN. Other celebs who have donated include John Legend and Chrissy Teigen, Miami Heat player Dwyane Wade and his wife, and actress Gabrielle Union, reported the Sun-Sentinel. Additionally, be on the lookout for Jimmy Fallon, cast members of Modern Family Sofia Vergara and Julie Bowen, as well as the Clooneys, as they have all expressed intentions of attending the March For Our Lives on March 24, the publication reported.
As far as Cyrus, Grande, Hudson, and Lovato are concerned, none among the newest list of celebs have exactly been shy about their stance on gun violence, CNN reported. Just yesterday — in the midst of news of school walkouts — Hudson took to Twitter, writing, ""I am completely inspired by the students and communities standing up for the future safety of everyone and to honor those we've lost from senseless acts of gun violence. I stand with you and raise my voice with yours. #ENOUGH"
Cyrus also chimed into the conversation during the national walkout day. "Proud of all of you! Never give up! You are THE change!" she tweeted on Wednesday. "So amazing to see young people take back their power and USE it!"
Like many celebrities at the time, Grande called for gun safety laws in response to the mass shooting in Las Vegas back in October. "My heart is breaking for Las Vegas," she tweeted. "We need love, unity, peace, gun control & for people to look at this & call this what it is = terrorism."
Recently, Lovato was candid about her stance on gun violence in an interview with Billboard. "There's way too many shootings happening in this country," she said earlier in March "There are certain pop stars who don't speak out politically, and they have more fans. But I'd rather speak up for the things I believe in than just be dismissive of the issues going on in our country."
As with the Women's March in January, I have a feeling there will be many celebrities that will step out on March 24 to show their support for the March For Our Lives. (Even if they haven't publicly announced their plans to attend at this point.) And truthfully, the more the merrier. It's inspiring to see successful actors and singers using their platforms and influence to help such an important cause. Celebrity or not, I invite you to find a march in a city near you, and stand up to gun violence. Because our kids' lives literally depend on it.
Check out Romper's new video series, Bearing The Motherload, where disagreeing parents from different sides of an issue sit down with a mediator and talk about how to support (and not judge) each other's parenting perspectives. New episodes air Mondays on Facebook.