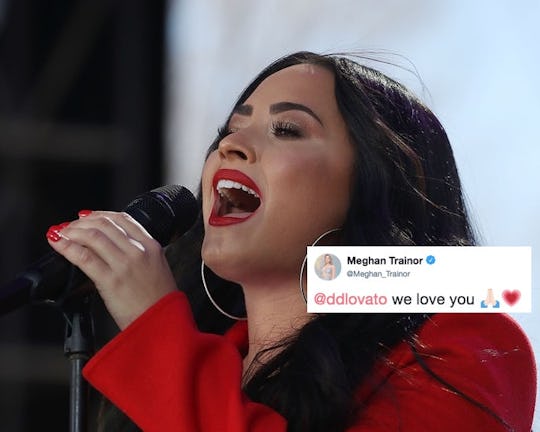 Mark Wilson/Getty Images News/Getty Images
Celebs & Fans Send Demi Lovato Loving Messages Of Support After Reported Overdose
On Tuesday, Demi Lovato was reportedly rushed to the hospital after what allegedly appeared to be a heroin overdose, TMZ reported. Lovato celebrated six years of sobriety back in March, so her friends and fans were understandably shocked and heartbroken to read these headlines. A slew of celebrities and fans sent Demi Lovato well wishes on social media, and based on the messages, it's clear that the singer is so loved.
UPDATE: On Tuesday evening, TMZ reported that Lovato did not allegedly overdose on heroin, citing a source "connected to the singer," who did not elaborate on her condition.
EARLIER: Shortly after reports of Lovato's alleged hospitalization began to circulate, People reported that a source said that Lovato is now "okay and stable." TMZ had reported that Lovato was taken from her house in Hollywood Hills to a Los Angeles hospital, where she reportedly received treatment. Lovato's representatives did not immediately respond to Romper's request for comment.
Shortly after Lovato's hospitalization was reported, celebrities from Ellen DeGeneres to Ariana Grande to Brad Paisley took to Twitter to share their support for the singer.
"sending huge recovery love to Demi," Singer Kehlani, who opened for Lovato on her tour, tweeted. "this is a very personal moment and respected delicately. all we can do is send our best wishes and love. addiction isn't simple nor easy. you're very loved, @ddlovato you'll beat this as you did before. 🙏🏽"
"I love @DDLovato so much," Ellen DeGeneres tweeted. "It breaks my heart that she is going through this. She is a light in this world, and I am sending my love to her and her family."
"Poor beautiful spirit @ddlovato I hope she's ok, and that she makes a full recovery soon," Lily Allen tweeted.
"praying for @ddlovato and her health. When I was 14, she was an idol to me in how she spoke so openly about mental health," actress Lili Reinhart wrote on Twitter. "And now she continues to inspire thousands of young men and women with her body positivity messages. Addiction and mental illness doesn't discriminate. 💔"
Ariana Grande sent Lovato a short and sweet note: "i love u @ddlovato."
Meghan Trainor tweeted a similar sentiment. "@ddlovato we love you 🙏🏻💗," she wrote.
Brad Paisley praised Lovato's bravery and honesty. "My friend @ddlovato is one of the kindest, most talented people I've ever met," the singer tweeted. "Praying for her right now, addiction is a terrifying disease. There is no one more honest or brave than this woman."
"I love you @ddlovato and I'm praying for your strength and health," tweeted Emmy Rossum.
"My whole heart and my whole soul is with @ddlovato today," tweeted actress Ruby Rose. "I adore you and so does the entire world. You will fight this and you will come out of it even stronger. Addiction is powerful beyond measure, but you can defeat it. I love you."
"My beautiful girl you are strong you always have been ❤️❤️," Bella Thorne captioned a picture of Lovato on Instagram.
Queer Eye's Karamo Brown sent his support to Lovato's family, and reminded everyone to respect her privacy.
Lovato naturally has an army of loyal fans (aka Lovatics), and many of them also sent her well wishes on Twitter. Some sent simple, heartfelt wishes and prayers for a quick recovery.
One fan commented by simply quoting lyrics from Lovato's song "Warrior."
And on top of sending their support to Lovato, some fans took a moment to remind people that mental illness and addiction are diseases, not choices.
There's no doubt that Lovato has the support of millions of people, from Hollywood celebs to her scores of fans.
If you or someone you know is seeking help for substance use, call the SAMHSA National Helpline at 1-800-662-HELP(4357).