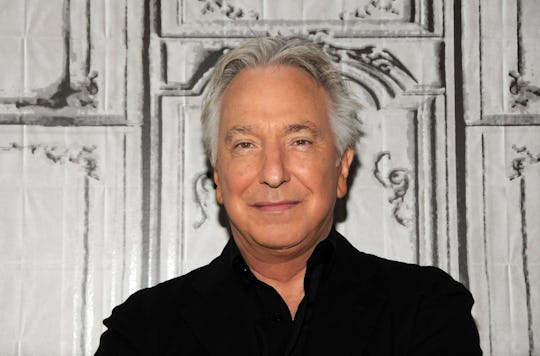 Celebrities React To Alan Rickman's Death & Express How Deeply He Will Be Missed
Immediately after news outlets reported that beloved British actor and director Alan Rickman had died from cancer, celebrities reacted to Alan Rickman's death with touching tributes expressing shock and sadness. Rickman was a legend in British film and theater, with a 30-year career that included broad and varied roles in movies including Die Hard, Sense and Sensibility, Dogma, and Love Actually. Easily one of the most singular, recognizable voices in acting, Rickman's is most recently known for bringing his sharp expressions and languid diction to the character of Severus Snape in all eight of the epic Harry Potter movies.
To say that Rickman was beloved could very well be an understatement. In the moments following the news of Rickman's death, his name and a few of his best-known movies quickly became trending topics on Twitter as fans came forward to express their grief. And they certainly weren't alone. Rickman's colleagues and friends in the film and entertainment industries posted statements of their own deep sadness and loss.
The Atlantic reported that, after hearing the news, Rickman's longtime friend Stephen Fry tweeted the following statement to his fans
What desperately sad news about Alan Rickman. A man of such talent, wicked charm & stunning screen & stage presence. He'll be sorely missed.
In a tweet, British actor and comedian Eddie Izzard offered this heartbreaking statement:
I do not want my heroes to die! Alan Rickman is dead & he was another hero. Alan - thank you for being with us. We are sorry you had to go.
Emma Thompson, who starred opposite Rickman in Sense and Sensibility as well as Love Actually, offered the following touching tribute in an interview with Radio Times:
What I remember most in this moment of painful leave-taking is his humour, intelligence, wisdom and kindness. His capacity to fell you with a look or lift you with a word. The intransigence which made him the great artist he was – his ineffable and cynical wit, the clarity with which he saw most things, including me, and the fact that he never spared me the view. I learned a lot from him. [...] He was the ultimate ally. In life, art and politics. I trusted him absolutely.
He was, above all things, a rare and unique human being and we shall not see his like again.
Kevin Smith, who wrote and directed the movie Dogma in which Rickman played The Voice Of God, tweeted:
And actress Jamie Lee Curtis wrote that the news dimmed the usual excitement of Thursday's Oscar nominations:
As the morning went on, celebrities from around the globe posted their own sad tributes to Alan Rickman:
Alan Rickman died in London after a short battle with cancer, BBC News reported. According to that outlet, Rickman's family issued a statement saying that the actor died "surrounded by family and friends." Rickman was 69 years old.
Image: Desiree Navarro/WireImage/Getty Images