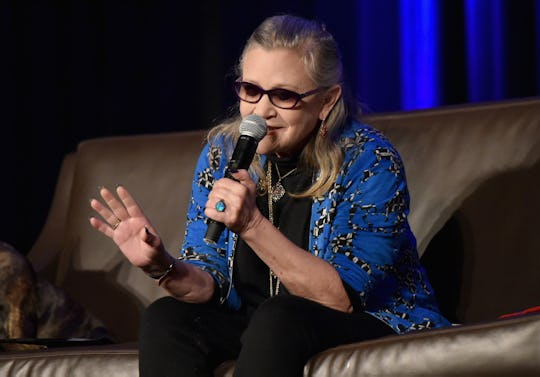 Daniel Boczarski/Getty Images Entertainment/Getty Images
Celebrities React To Carrie Fisher's Death
Sad news for Star Wars fans. Carrie Fisher has died at 60, after suffering from a heart attack last week. Fisher was an incredibly beloved person in Hollywood. She made an impact on the lives of many, and there is no doubt that fans will miss her. Fans expand wife and far, and if these celebrity reactions to Carrie Fisher's death are any indication of her impact, there is no doubt that her passing will be felt by millions.
Over the past week, fans have been worried about the Star Wars fan (and all around star). On Dec. 23, the actress had a heart attack that sent her to the hospital. According to People, Fisher was aboard a flight from London to Los Angeles on Friday when she went into cardiac arrest. After landing, she was rushed to the hospital, where fans waited for more news. Later, Todd Fisher, shared with AP that his sister was "out of emergency" and in stable condition at the hospital. Debbie Reynolds, Fisher's mom and star herself, shared the following tweet to fans on Christmas Day to share with fans that her daughter was in stable condition. She didn't offer any other updates since that tweet.
Fisher was loved by so many people, and the responses from Hollywood are just a glimpse at her impact on other actors.
Carrie Fisher's impact on Hollywood, women, and the mental health stigma will forever be meaningful. While she is gone, her footsteps on the earth will not be forgotten. This is only a glimpse of people who were influenced by the warrior, but it shows just how important she was.