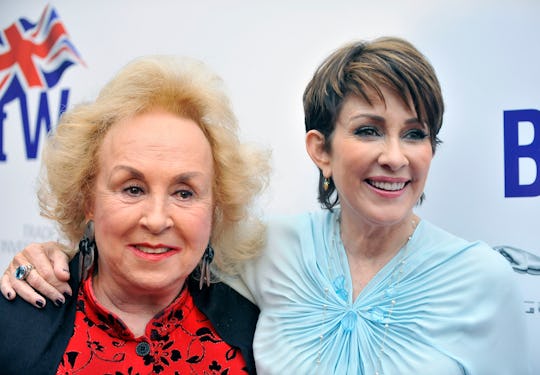 Toby Canham/Getty Images Entertainment/Getty Images
Celebrities React To Doris Roberts' Death & Share Their Favorite Memories
Beloved TV mom Doris Roberts, of Everybody Loves Raymond fame has died, according to TMZ. Roberts passed away in Los Angeles, California on Sunday at the age of 90 years old. The five time Emmy award winner managed to touch so many lives over the years that the outpouring of love on social media this week was hardly unexpected. Across Twitter on Monday, celebrities reacted to Doris Roberts' death, sharing their favorite memories for the world to remember.
Roberts' nine-year run on the sitcom Everybody Loves Raymond as Raymond Barone's mother, Marie, won her four Emmy awards. Her character was relatable to many, as she played the loving mother-in-law and nemesis whose advice, quick wit for any situation, and tendency to walk into a room at the wrong moment reminded everyone of someone they knew personally — but her character was also always ready with cookies or a lasagna in hand. Everything Marie Barone (and by extension Roberts herself) did, she did out of love.
Roberts was born in St. Louis and was raised by her mother in the Bronx. She briefly studied journalism at NYU, but found her passion for acting soon after, moving to work with the Neighborhood Playhouse and later joining up with the Actors Studio. Comedy suited her well, and she made audiences laugh from her Broadway debut to our living rooms at home. Roberts and her characters were beloved on TV and in real life.
Following news of her death on Monday, Everybody Loves Raymond co-star Patricia Heaton took to Twitter to express remorse, writing,
[It's] truly the end of an era. My wonderful TV mother-in-law and Everybody Loves Raymond nemesis Doris Roberts was a consummate professional from whom I learned so much. She was funny and tough and loved life, living it to the fullest. Nothing gave her greater joy than her three wonderful grandchildren, of whom she was so proud. It truly was a privilege, Doris. I love you and miss you. To my beloved Marie — RIP.
Ray Romano also released a statement about his on-screen mother to Deadline, which read,
Doris Roberts had an energy and a spirit that amazed me. She never stopped. Whether working professionally or with her many charities, or just nurturing and mentoring a green young comic trying to make it as an actor, she did everything with such a grand love for life and people and I will miss her dearly.
Everybody Loves Raymond creator Phil Rosenthal shared his condolences for the TV show's beloved mom on Monday as well:
Madylin Sweeten, who played Ally Barone on Everybody Loves Raymond, posted this photo:
Brad Garrett, who played the less-favored son Robert on the show, released a statement remembering Roberts to TheWrap. It said:
I am deeply saddened by the passing of Doris Roberts, an amazing lady and brilliant actor. Doris was vibrant and full of life both on and off the stage, and I am so grateful we shared so many wonderful memories. I will miss her greatly and will always remember her incredible kindness, humor, talent and heart.
More celebrities took to Twitter as the day wore on, sharing their fondest memories of Roberts.
Fans will surely miss Roberts' no-nonsense and blunt characters on-screen. As she had a long and respected career, it'll be easy to remember her and laugh with her. She will be tremendously missed.