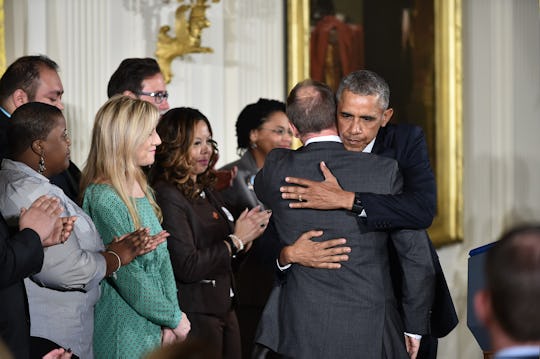 Mandel Ngan/AFP/Getty Images
Celebrities React To Obama's Speech On Gun Control & Pledge To Help #StopGunViolence On Twitter
In an emotional speech on Tuesday, President Obama laid out a series of executive actions that would address the rising issue of gun violence across the United States, one of which would include a measure meant to tighten background checks on gun buyers. The president also indicated that the administration would direct $500 million toward mental health care and would require the Department of Health and Human Services to remove any barriers standing in the way of proper mental health reporting across state lines. Across social media, celebrities reacted to Obama's moving speech in a largely unified chorus of praise.
Among the most vocal was comedian and actress Amy Schumer, who was present at the White House for the historic address. "Let's go," Schumer wrote, tweeting a link containing a list of ways to reduce gun violence a short while later. "We can #StopGunViolence."
According to a report by the Independent Journal Review, Schumer, who was seated next to Secretary Sylvia Mathews Burwell of Health and Human Services for the duration of the president's speech, has been an active proponent of gun control in recent months. Following a deadly shooting in Lafayette, Louisiana last July, in which three people were killed when a lone gunman opened fire on a crowd of movie-goers attending Schumer's film Trainwreck, the actress took to Twitter to issue a heartfelt statement.
"My heart is broken," Schumer tweeted. "... All my thoughts and prayers are with everyone in Louisiana."
Schumer wasn't the only celebrity to tweet a response to the president's address this week. Joining the actress was a list of influential actors, musicians, and notable public figures, many of whom praised Obama's initiative using the hashtag #StopGunViolence:
Joining the extensive list of celebrities was a wave of political figures from both the state and federal level:
By Tuesday evening, the hashtag #StopGunViolence had gone viral across the entire country.
Despite criticism from rival Republicans, including several GOP presidential candidates who promised to repeal Obama's executive order if elected, the president pushed forward with the decision, explaining that the current rate of gun violence was unacceptable.
"We know we can't stop every act of violence, every act of evil in the world," said Obama during Tuesday's televised address. "But maybe we could try to stop one act of evil, one act of violence. ... Once Congress gets on board with common-sense gun safety measures, we can reduce gun violence a whole lot."
Images: Mandel Ngan/AFP/Getty Images