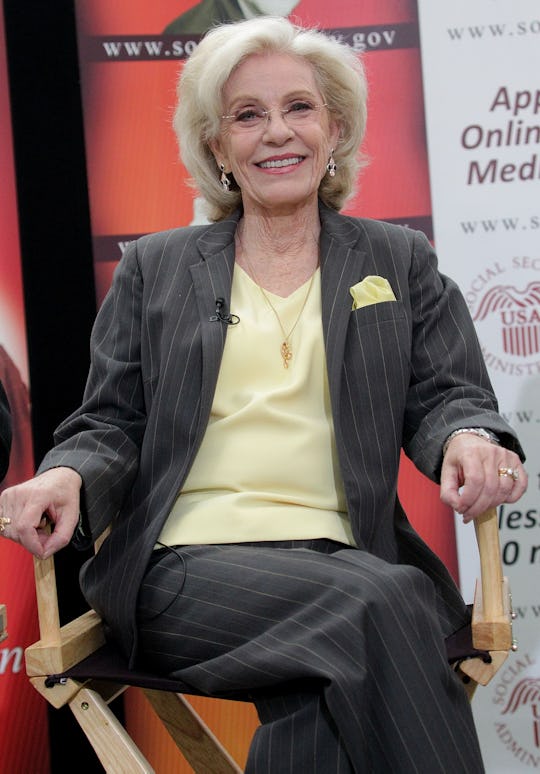 Frederick M. Brown/Getty Images Entertainment/Getty Images
Celebrities React To Patty Duke's Death With Shock & Sadness
On Tuesday, Anna Marie "Patty Duke" Pearce died from sepsis caused by a ruptured intestine, according to her spokesman, Mitchell Stubbs. She was just 69 years old. And while Duke was both an actress and icon — perhaps best known for her role on The Patty Duke Show and in The Miracle Worker — she was also a wife, mother, grandmother, and staunch mental health advocate and, consequently, Duke touched many, many lives. As such, many celebrities are reacting to Patty Duke's death with shock and sadness.
Duke's presence has been notably absent as of late, but when she took to Twitter to address the matter earlier this month, the actress and activist seemed to underplay her health struggles. "Hi tweethearts and FB friends," Duke wrote in a tweet on March 1. "I have been absent, but not far, believe me. I love and miss you all. Hopefully back more soon and often."
According to Sean Astin — Duke's son and the great Samwise Gamgee in The Lord of the Rings — and TMZ, the family is "relieved" because Duke was suffering quite a bit and has been in pain for a long time. Duke's family also released a statement confirming the news on Tuesday:
This morning, our beloved wife, mother, matriarch and the exquisite artist, humanitarian, and champion for mental health, Anna Patty Duke Pearce, closed her eyes, quieted her pain and ascended to a beautiful place.
Born in Elmhurst, New York on December 14, 1946, Anna Marie Duke (her given name) was one of three children. Duke began acting when she was just 8 years old — after her mother "turned her over" to talent scouts John and Ethel Ross, according to NBC. And over the course of her 60-plus year acting career, Duke starred in dozens of television shows and movies, she presided over the Screen Actors Guild — as the organizations president — from 1985 to 1988, and Duke won Oscars, Emmys, and Academy Awards, according to IMDB.
Privately, Duke struggled more than she let on. She battled alcoholism and drug abuse early in her life and even attempted suicide "several times," according to Biography. Decades later however, Duke was officially diagnosed with manic depression (bipolar) disorder (1982). Shortly after her diagnosis she wrote Call Me Anna — which was made into a movie in 1990 — and A Brilliant Madness: Living with Manic Depression Illness, published in 1992. Duke when on to become one of the great mental health advocates of our time.
Duke is survived by her three children — Sean Astin, Mackenzie Astin, and Kevin Pearce — and her latest husband, Michael Pearce, according to Biography. RIP Patty. You will be missed.