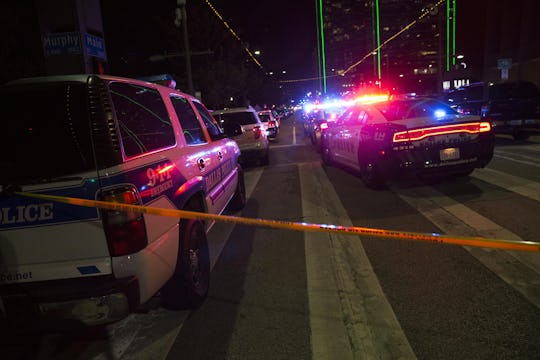 LAURA BUCKMAN/AFP/Getty Images
Celebrities React To The Dallas Shooting & A Horrific Week In America
This week has been exhausting, troubling, and traumatic, to say the least. Two black men joined a long list of black lives who have died at the hands of police, and five Dallas police officers were shot dead by a sniper attack towards the end of a peaceful protest in Dallas Thursday night. People in America are scared, grieving, and looking for answers. The peaceful protest and the Black Lives Matter movement did not take the lives of the Dallas police officers. Both the United States' long history of systemic racist practices, and police violence affecting black communities – and the shooting deaths of the police officers in Dallas Thursday night — urgently needs the country's attention. Many people have taken to social media, including celebrities, to react to the Dallas shooting. It has been a tragic week.
According to The New York Times, officials have reported that at least one sniper killed five officers, and wounded several others, including a protester, in a coordinated ambush reportedly targeting police officers Thursday night. The protest, which was reported as peaceful, was sparked by the recent killings of a 37-year-old black father of five, Alton Sterling, who was selling CDs outside a convenience store in Baton Rouge, Louisiana before he was shot to death by police; and a 32-year-old black school cafeteria manager, Philando Castile, who was shot to death by a police officer in his car during a routine traffic stop.
Grammy award-winning singer John Legend, who is an active voice for civil rights, expressed his dismay over the Dallas shootings: "These Dallas shootings are horrific," he wrote on Twitter. "Killing these officers is morally reprehensible and completely counterproductive to keeping us safe."
Other actors, producers, writers and musicians, like Olivia Wilde, Shonda Rhimes, Demi Lovato, and Rashida Jones, spoke out to condemn the coordinated sniper attack in Dallas.
But as many have poignantly noted, blaming the BLM movement, and the fight against police violence that disproportionately affects black communities, for the Dallas shooting, is not only wrong, it's dangerous. The Dallas Police Department was quick to upload a photo of a man named Mark Hughes, identifying him as a suspect in the attack. But reports later revealed that Hughes was peacefully protesting and was not at all connected to the attack. He told local Dallas TV station KTVT that he has been receiving death threats since his picture was circulated around the internet.
As the country mourns the Dallas police officers who lost their lives on Thursday night, it's important to not veer away from or forget about the BLM movement. It is still needed, and violence of any and every kind should be condemned.