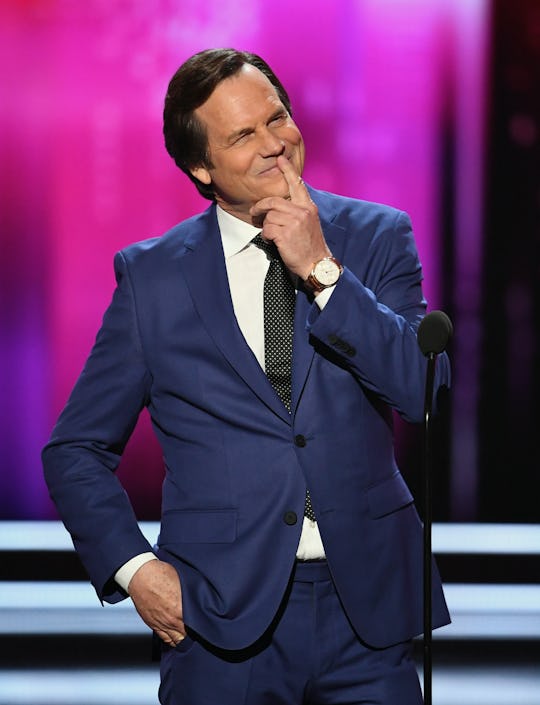 Kevin Winter/Getty Images Entertainment/Getty Images
Bill Paxton Was Loved By Hollywood
Hollywood has lost a legend, on Oscar Sunday no less. On Sunday morning it was announced that actor Bill Paxton has died at 61. In a statement to People, it was revealed that he had died due to complications from a surgery. Paxton was in some of the most popular films in all of history, including, Terminator, Apollo 13, Titanic, and Aliens. There's no doubt that his success caused him to touch many people, including many of his colleagues in the industry. Celebrity reactions to Bill Paxton's death show just how loved he was, and just how much he'll be missed.
The full statement, released to People by a representative of the family, highlights the impactful career Paxton had in Hollywood. It speaks of his "tireless energy" and his "passion for the arts." You can read the entire statement below.
"It is with heavy hearts we share the news that Bill Paxton has passed away due to complications from surgery. A loving husband and father, Bill began his career in Hollywood working on films in the art department and went on to have an illustrious career spanning four decades as a beloved and prolific actor and filmmaker. Bill's passion for the arts was felt by all who knew him, and his warmth and tireless energy were undeniable. We ask to please respect the family's wish for privacy as they mourn the loss of their adored husband and father."
There is no doubt that Paxton's career touched many fans — some of whom were those he shared the screen with, or simply fans, friends, and colleagues.
And in a string of tweets, actor Rob Lowe paid tribute to Paxton, even urging fans to watch his work to celebrate him.
Clearly Paxton touched a lot of people. His kindness and his heart ring true in many of the tributes celebrities posted upon the news.