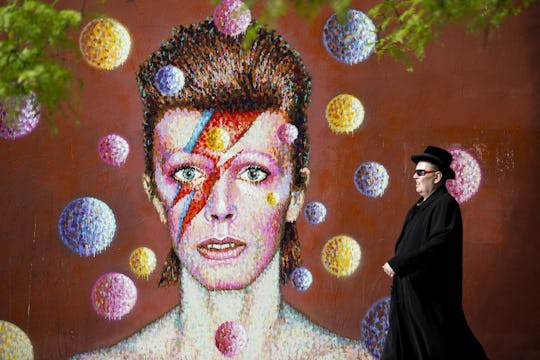 Celebrity Reactions To David Bowie's Death Show Why His Legacy Will Live Forever
Musician David Bowie, who many say transcended music into the worlds of art and fashion, died on Sunday at 69 — two days after his birthday, according to the New York Times. Though many knew he had been battling cancer for the last 18 months, it seems that very few people knew just how bad it really was. Celebrity reactions to David Bowie's death are full of shock and sadness. Many musicians credited Bowie as their inspiration to be more creative or to try to affect disciplines outside of music.
Bowie's death was confirmed by his publicist, Steve Martin, on Monday morning, according to the Times. A tweet from his official Facebook page said, "David Bowie died peacefully today surrounded by his family," and asked that people respect the family's privacy and grieving process. As the Times put it, Bowie wrote about being different, about being, "an alien, a misfit, a sexual adventurer, a faraway astronaut."
When he performed he was famous for his style of dress, his hair, and also his characteristic makeup, which would take the form of some kind of brightly-colored shape across his face or on his forehead. Bowie wasn't afraid to make a spectacle of himself — it was part of his approach to music and art. And it affected people. The entire nation of Germany even sent out a thank you to Bowie on Monday. The German Foreign Ministry tweeted, "Good-bye, David Bowie. You are now among #Heroes. Thank you for helping to bring down the #wall," in reference to the Berlin Wall, according to the Associated Press.
Celebrities also took to Twitter to express their grief on Monday. Musicians from all different genres paid some kind of tribute to Bowie, because he really reinvented the way the world thinks of music and its influence on everything else.
Whoopi Goldberg's tribute talked about the time she met Bowie in the '80s, according to her Instagram:
My condolences to the family of The Legendary artist David Bowie may he he rest in peace! Here's a flashback in the 80's during MTV's Rock and Comedy Concert - Backstage at Battery Park in New York ...
It's clear that Bowie really will live on forever through his music and through the memories of the many talented people he worked with or influenced.
Images: AFP/Getty Images; Whoopi Goldberg/Instagram