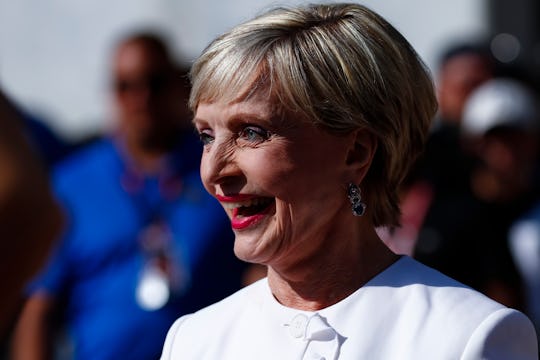 Michael Hickey/Getty Images Entertainment/Getty Images
Celebrity Reactions To Florence Henderson's Death Prove She Truly Was "America's Mom"
The entertainment world was shocked and saddened Thanksgiving evening, when it was announced the matriarch of the Brady family, Florence Henderson, had passed away at the age of 82. Celebrity reactions to Florence Henderson's death prove she truly was "America's mom," solidified by her role as Carol Brady on the timeless ABC sitcom, The Brady Bunch.
Henderson's passing was first announced by her manager on Thanksgiving, and later confirmed by the Associated Press. Moments later, it was reported by Entertainment Tonight that Henderson died from heart failure, and passed surrounded by the family and friends she held so dear. (Romper reached out to Henderson's representation for a statement.) The news of Henderson's passing swept through social media and, in no time at all, fans and celebrities took to twitter to express their sadness, their gratitude for her career — one that spanned over 60 years and made her nothing short of a television legend — and their continued thoughts and heartfelt prayers for Henderson's family.
Although The Brady Bunch only aired for five years, from 1969 to 1974, it was well-known that Henderson stayed in close contact with her cast members and television family. Her six "children" helped Henderson celebrate her 80th birthday, and she stayed in close contact with Robert Reed (Mike) and Ann B. Davis (Alice) until their deaths. So, it's no wonder that Henderson not only touched the lives of television viewers, but anyone who was lucky enough to know her. Her lasting impression on those who knew her, and celebrities who wish they had, was apparent when so many of them expressed their love for the matriarch of all matriarchs.
Not only was Henderson the mother so many Americans wish they had, she was also a pioneer for women in the entertainment industry. In 1962 she became the first woman to ever host The Tonight Show Starring Johnny Carson, and held a position on The Today Show as "The Today Girl," before it would eventually be filled by the likes of Barbara Walters. She was also a working mother, having four children with her first husband Ira Bernstein. In 2015, Henderson told The Today Show host Matt Lauer, "There are just some things we can't do at 81. I didn't get that memo."
While Henderson is no longer of this world, the reactions of those who worked with her (or wish they had worked with her) are a reminder that she will live on as America's mom, forever.