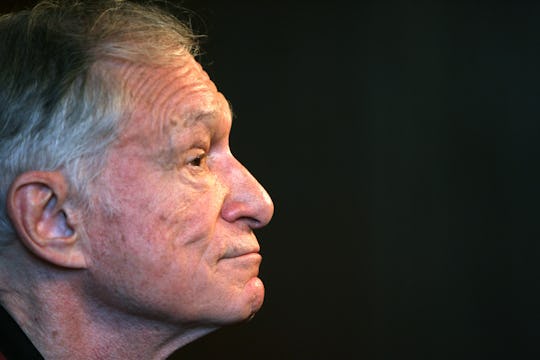 GABRIEL BOUYS/AFP/Getty Images
Celebrities Are Mourning 'Playboy' Founder Hugh Hefner
Playboy founder Hugh Hefner died at the age of 91 on Wednesday night of natural causes, People reported. Twitter was chock full of celebrity reactions to Hugh Hefner's death throughout the evening and into Thursday morning, and it's clear that the publisher left a big impact on the entertainment industry. A representative provided the following statement to People:
Hugh M. Hefner, the American icon who in 1953 introduced the world to Playboy magazine and built the company into one of the most recognizable American global brands in history, peacefully passed away today from natural causes at his home, The Playboy Mansion, surrounded by loved ones.
Hefner financed Playboy by borrowing money from friends and putting up his own furniture as collateral. The first issue, published in 1953, featured a nude photo of Marilyn Monroe. Though best-known for such photos, the Playboy brand was marketed as a fully-formed lifestyle. The first issue summed up its essence in an editorial: "We enjoy mixing up cocktails and an hors d'oeuvre or two, putting a little mood music on the phonograph and inviting in a female acquaintance for a quiet discussion on Picasso, Nietzsche, jazz, sex," the New York Times reported. Playboy wasn't just founded by Hefner; it was Hefner.
It's clear how far-reaching his impact was just by looking at the wide array of famous names coming together to mourn him. Even Kim Kardashian West and her former employer/frenemy Paris Hilton have put aside their differences.
A fair amount of the celebrity mourners were unsurprising, to say the least:
But Hef also got plenty of shout-outs from plenty of people outside of his very particular niche, from respected journalists...
To, well, let's just say the opposite of Larry King:
His reach spanned across generations, from the man who created Archie Bunker...
...to the voice of Olaf from Frozen.
It seems like there isn't one famous (or quasi-famous) person in the world who didn't know Hef personally.
What a weird funeral that's going to be. And of course, there were some jokes. Before you get offended on Hef's family's behalf, however, know that they were made by skilled professionals.
But enough with the sex jokes. Yes, Hef got around, but his interests didn't begin and end with naked ladies. Did you know he was also a civil rights pioneer?
Playboy ran more than 600 cartoons by Brown from 1962 until his death in 2007, according to the New York Times.
In 1955, Playboy published "The Crooked Man," a science fiction short story by Charles Beaumont. It depicted a dystopian future in which heterosexuality is outlawed and angry anti-straight mobs marched in the streets chanting "Make our city clean again!" (yes, really). Unsurprisingly, it was not well-received. Hefner's response to critics, according to the Advocate: "If it was wrong to persecute heterosexuals in a homosexual society, then the reverse was wrong, too."
When she was outed by a tabloid in 1981, Caroline "Tula" Cossey, a transgender model and actress, thought her career was over. But a 1991 spread in Playboy turned her from victim into advocate.
Hefner gave Gregory more than a job, though; in 1964, when a Mississippi sheriff/Klansman refused to investigate the murders of three civil rights activists under his watch, Hefner gave Gregory $25,000 to put up as a reward, according to GQ.
And while his views on women were, well, debatable, one thing's for sure: from the very advent of oral contraceptives, Hefner was a strong supporter. "The Pill put the control in the hands of women," Hef said, according to CNN. "It gave women the capacity to control their own destinies."
No matter who are you are and what sort of feelings you have about Hefner, you can't deny that he changed the world.
Watch Romper's new video series, Romper's Doula Diaries:
Check out the entire Romper's Doula Diaries series and other videos on Facebook and the Bustle app across Apple TV, Roku, and Amazon Fire TV.