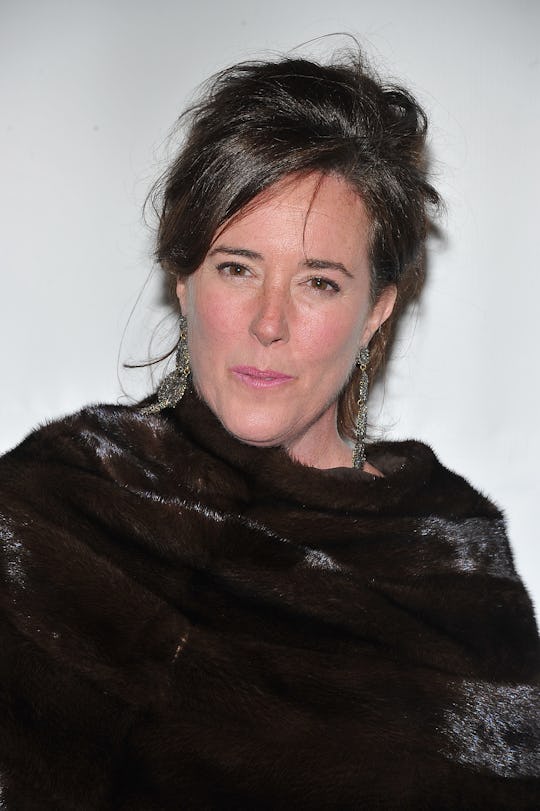 Theo Wargo/Getty Images Entertainment/Getty Images
Celebrity Reactions To Kate Spade's Death Show How Missed The Fashion Designer Already Is
On Tuesday, June 5, fashion designer Kate Spade was found dead in her New York City apartment, according to the Associated Press. It's reported that Spade died of an apparent suicide, and celebrity reactions to Kate Spade's death show just how missed the iconic fashion designer already is. (Romper reached out to Spade's representative for comment, but did not hear back at the time of publication.)
Spade was famous for her collection of handbags and womenswear — which she founded in 1993 with her husband, Andy, Us Weekly reported. Ultimately, the couple sold the brand back in 2007 to another well-known brand, Coach, for an astounding $2.4 billion, according to Forbes. However, in 2016, the couple started a new handbag company called Frances Valentine, named after their 13-year-old daughter, Frances.
News of Spade's death rocked not only the fashion world, but the celebrity world, too. Everyone from well-known celebrities to politicians to body-positive icons took to Twitter to pay their respects to the legendary designer, and remind us all that no matter what we're going through or how we're feeling, we're not alone.
Former first daughter Chelsea Clinton took to Twitter to react to the tragic news. "My grandmother gave me my first Kate Spade bag when I was in college. I still have it," Clinton wrote. "Holding Kate's family, friends and loved ones in my heart."
Model Tess Holliday tweeted, "Kate Spade & her brand have always been so kind to me the past couple years & I'm crushed to hear about her passing. Suicide isn't 'the easy way out' and shouldn't be mocked. My heart goes out to her family & team today."
Current first daughter Ivanka Trump also shared her thoughts on Spade's untimely passing. "Kate Spade's tragic passing is a painful reminder that we never truly know another's pain or the burden they carry," Trump tweeted. "If you are struggling with depression and contemplating suicide, please, please seek help."
Singer Josh Groban also reacted via Twitter to the news of Spade's passing.
Designer Liz Lange shared her memory of Spade, as well as plenty of other celebrities and designers.
Lena Dunham wrote an especially touching tribute to Spade, via Twitter. "Kate Spade was more than a designer. She had a quirky visual language that captivated Bat Mitzvah girls and artists alike. She as also a staple of NYC who spread good will. My heart breaks for her family. Thank you, Kate, from one of the millions you made feel beautiful."
Bethenny Frankel from The Real Housewives of New York City also took to Twitter to share her heartbreak, and achnowledge how much heartbreak and sadness followed the announcement of Spade's death.
As did Maria Shriver, who sent her love to Spade's family and reminded us all to "take note that we never know what's going on in someone's life." She then urged us all to be kind to one another: a daily reminder that never hurts to be repeated.
Rosie O'Donnell also shared her condolences to Spade's family, sending a direct Tweet to David Spade, Kate Spade's brother-in-law.
It is clear that Spade touched the lives of millions through her art, her designs, and her unique vision. You didn't have to be a celebrity or a politician or an influencer to feel influenced by her work, though, or feel transformed by her one-of-a-kind designs. And while the news of her death is heartbreaking, the tributes that continue to flood the internet is proof that her memory, and her legacy, will live on.
If you or someone you know are experiencing suicidal thoughts, call 911, or call the National Suicide Prevention Hotline at 1-800-273-8255.