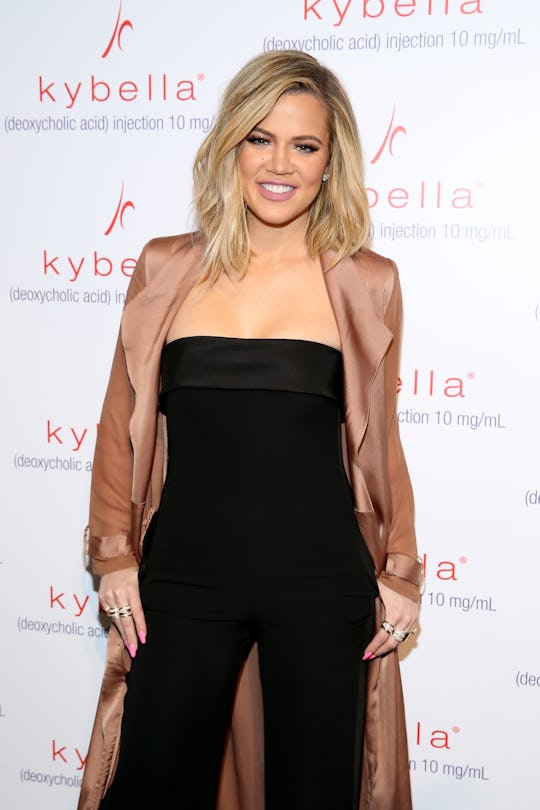 Cindy Ord/Getty Images Entertainment/Getty Images
Celebrity Reactions To Khloé Kardashian Giving Birth Are Incredibly Sweet
In some ways, the world of Hollywood is just like any neighborhood. When someone has a baby, your neighbors, co-workers, and other peers generally congratulate you. The same thing happened to Khloé Kardashian, who saw congratulations pour in from fellow stars following the birth of her baby on Thursday. The celebrity reactions to Khloé Kardashian giving birth are incredibly sweet, and probably exactly what she needs right now.
Khloé gave birth on Thursday, according to People. She reportedly gave birth in Cleveland, and the baby girl is her first child. The birth came just days after allegations that her boyfriend and the baby's father, Tristan Thompson, was allegedly caught on video cheating on Khloé while she was pregnant, The Daily Mail reported. Thompson's and Kardashian's reps didn't immediately respond to Romper's request for comment.
No matter whether the allegations are true or not, Khloé is clearly dealing with a lot right now, and it's probably really nice to get well wishes from other celebs. Some of the people who responded are parents themselves, and have a pretty good idea just what Khloé is in for with her new daughter.
At least one of Khloé's famous family members publicly congratulated her on social media as well, but that's to be expected. The reactions from fellow celebrities are hopefully a sweet surprise for the Keeping Up With The Kardashians star.
Fellow celebrity moms, like actress and activist Alyssa Milano, took the time to congratulate Khloé on social media, with no mention of any allegations or other negative news to cloud the happy occasion.
In fact, many of the initial reactions I saw were totally positive, and showed no mention of the Thompson rumors. Which is really exactly what Khloé deserves right now — to enjoy being a new mama and to bask in the glow of the kudos being offered for welcoming her first child into the world.
Some people did allude to Khloé being "strong" or really feeling for the reality TV show star at the moment, however.
Fellow famous people were definitely excited by the news that "Koko" had finally given birth. Khloé finally welcomed her daughter after dealing with fertility struggles that she's been pretty public about, and after two of her sisters also had babies in the past few months.
And speaking of her sisters, members of Khloé's family took to social media to congratulate her on having her baby as well. Or should it be "kongratulate"?
On Friday, Kim Kardashian West, Khloé's older sister, posted a very sweet message on Twitter. Her younger sister, Kylie Jenner, chose to use Snapchat to congratulate her big sis.
Khloé's mom and manager, Kris Jenner, turned to Twitter to post about her daughter's baby news, too.
Kris definitely has a lot to feel "blessed" about. She's welcomed not one, not two, but three granddaughters just in the past few months. Kim welcomed a baby in January — a daughter named Chicago. On Feb. 1, Kylie also had a baby girl, whose name was eventually revealed to be Stormi.
There are indeed a lot of new babies in the Kardashian family. But Khloé seemed to especially get a lot of attention following her daughter's birth, possibly in part because of all the drama that unfortunately surrounded it.
Hopefully Khloé has just as much support in the coming months — because as every new parent knows, you can love your new baby to pieces, and it can still be extremely stressful to deal with the adjustment of parenthood. Even if you're not a celebrity whose every move is watched by the media and your fans.
No matter what happens next, Khloé deserves all the love and support she's received from her family, fans, and fellow stars.
Check out Romper's new video series, Bearing The Motherload, where disagreeing parents from different sides of an issue sit down with a mediator and talk about how to support (and not judge) each other's parenting perspectives. New episodes air Mondays on Facebook.