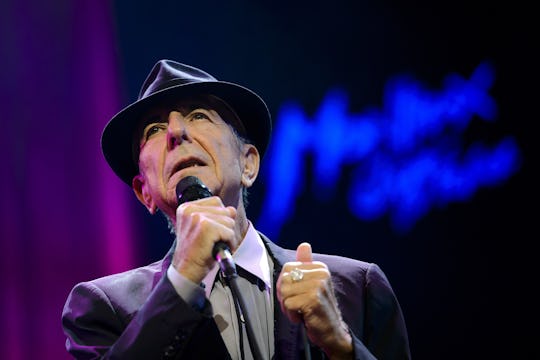 FABRICE COFFRINI/AFP/Getty Images
Celebrity Reactions To Leonard Cohen's Death Show Just How Much He'll Be Missed
It is with a heavy heart that I must burden you with even more sad tidings in what many would describe to be an already very, very sad week. The iconic singer and songwriter Leonard Cohen has died at the age of 82. The news was announced on his official Facebook page with the following statement: "It is with profound sorrow we report that legendary poet, songwriter and artist, Leonard Cohen has passed away. We have lost one of music's most revered and prolific visionaries. A memorial will take place in Los Angeles at a later date. The family requests privacy during their time of grief." And while a cause of death is not yet known, celebrity reactions to Leonard Cohen's death have already begun rippling through social media, proving just how much the Hollywood legend will be missed.
Not that the entertainment world hasn't already taken a serious hit this year. Losing the likes of David Bowie, Alan Rickman, and Prince were devastating losses that almost makes you question why 2016 seems to hate us so much. And Cohen's death only reenforces that sentiment. But it is comforting to see just how loved and respected he was not just by his fans, but by his peers. Even singing icons like Bette Midler (aka The Divine Miss M) took to her social media account to lament her feelings over this latest great loss.
And this is just the beginning. More and more messages of love will undoubtedly sweep the internet as the word spreads of his passing. Suffice to say, this is one great man who will truly be missed. Thank you for sharing your talent with the world, Cohen. You may be gone, but as these tweets more than indicate, you will never be forgotten.