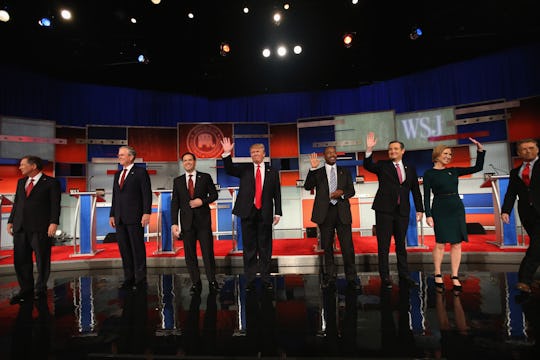 Scott Olson/Getty Images News
Celebrity Reactions To The Fourth GOP Debate Have Been The Best Part Of The Night So Far
We pretty much know going into every GOP debate that it's going to be, at the very least, filled with lots of tense and awkward moments. And with a packed stage of 8 anxious and/or feisty Republicans, plus a live audience, it's basically T.V. gold. But we also know by now, having done three of these bad boys already this year, that the actual debate is only half the fun. The real entertainment is in watching celebrity reactions to the fourth GOP debate and following the waves of commentary across the Twitterverse. Sit back and enjoy the ride, my friends.
Some of the most outspoken celebrities this debate season have been Patton Oswalt, Ice-T, Bill Maher, Katie Couric (she does not hold back), and both Oswalt and Maher were on the case Tuesday night. You know which other celebrity is very into these debates? I'll give you a minute to guess. Friends, it's Cher. Seriously, if you don't follow Cher, do it now. SHE WRITES IN ALL CAPS AND IT MAKES IT SEEM LIKE SHE IS BELTING EVERYTHING OUT. But, it's Cher, so maybe she is. Here are some of my favorites of her groundbreaking beat-poet meets modern-day prophetess debate tweets (she's also really got a pulse on the dog vote): 
Other than Cher, Oswalt and Maher were in especially fine form during this GOP debate, commenting on the moderators, Carly Fiorina's truthfulness, and whether Obamacare is really the scourge against humanity that the GOP candidates suggest. Oh, and this time perhaps the biggest celebrity of all weighed in: God. 
Here are more of the best celeb reactions so far to tonight's main event:
On The Moderators
On Carly's Truthfulness
On Rand Paul
On Obamacare
On Heartlessness
(See, told you Cher is into this.)
On Someone Actually Answering The G.D. Question
On Parenting Vs. Presidenting
On Being Over All Of It, TBH
So while the debate itself was lackluster at many, many moments, the celebrity reactions made the whole thing worth it — you might even say borderline divine.