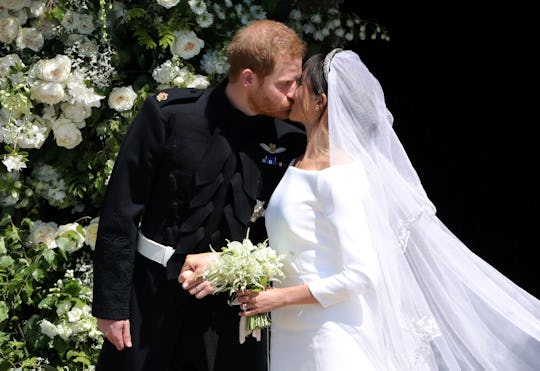 WPA Pool/Getty Images Entertainment/Getty Images
The Celebrity Reactions To The Royal Wedding Are Just *Full* Of Love
While a slew of celebrities scored invitations to the Duke and Duchess of Sussex's big day, plenty of others watched from home in their PJs,— just like you did. And many of them even took to Twitter and Instagram to congratulate the happy couple, crack jokes, and praise Meghan Markle's look. Here are some of the best celebrity reactions to the royal wedding, from both celebs who watched from their couch and even a few who were at the nuptials in-person.
Plenty of celebs were in attendance to watch Meghan and Prince Harry say "I do," reported the Huffington Post. A-list guests included Serena Williams and Alexis Ohanian, George and Amal Clooney, Oprah Winfrey, Elton John and David Furnish, David and Victoria Beckham, James Blunt and Sofia Wellesley, Idris Elba and model Sabrina Dhowre, James Corden and Julia Carey, Meghan's Suits co-star Patrick J. Adams and actress Troian Bellisario, and Priyanka Chopra. Oh yeah, and Queen Elizabeth II, plus a bunch of other British royalty. No big deal.
And even though they did not score invitations (or maybe they just declined theirs), celebrities ranging from Sarah Jessica Parker to Jonathan Van Ness to Patricia Heaton to Bella Hadid expressed their royal wedding feels on social media.
Sarah Jessica Parker thought the bride looked beautiful.
Patrick Adams, Meghan's Suits co-star, shared a heartfelt message.
And so did whoever runs the Twitter account for Suits.
Meg Cabot, author of the very relevant Princess Diaries series, was unsurprisingly glued to her TV this morning.
Serena Williams, who attended the wedding with her husband Alexis Ohanian, honored Harry and Meghan by showing up in an absolutely fierce outfit.
Megyn Kelly, who covered the royal wedding on-site, was super excited to be there.
Jonathan Van Ness of Netflix's Queer Eye found the perfect gif of himself to describe his feelings about the royal wedding.
Musical duo Chloe x Halle were extremely moved by the couple's "pure and kind" love.
Comedian Michael Ian Black just had to bring the Trumps into this...
Lori Loughlin must have been having flashbacks to Becky and Uncle Jesse.
Glee's Chris Colfer woke up bright and early (and with plenty of props) to watch the festivities.
I totally remember Patricia Heaton's character on The Middle, Frankie, having an obsession with the 2011 royal wedding, so it's pretty funny to find out that she is a huge fan in real life as well.
Frozen's Josh Gad came in with The Crown jokes.
Kathy Griffin celebrated the one thing her and Prince Harry have in common — their hair color.
Actress Tia Mowry live tweeted the nuptials, commenting on how adorably nervous Prince Harry looked, as well as how beautiful the wedding was.
Bella Hadid made sure to surround herself with the United Kingdom's flag, based on her Instagram story.
Hadid was also very much there for her pal Serena Williams' look.
Retta, who is known for playing Donna in Parks and Recreation and for live tweeting television events, naturally live tweeted the royal wedding. Not only was she moved by Harry wiping the tears off his face, but she was particularly excited about the representation of black people at the ceremony.
Meghan and Harry seemed so joyful throughout their wedding ceremony Saturday morning, and it's easy to see why. Not only are they in love, but they also have the support of so many friends and supporters, whether or not they were with them at St George's Chapel today.